How to join the world's smallest Amazon Reef protest
---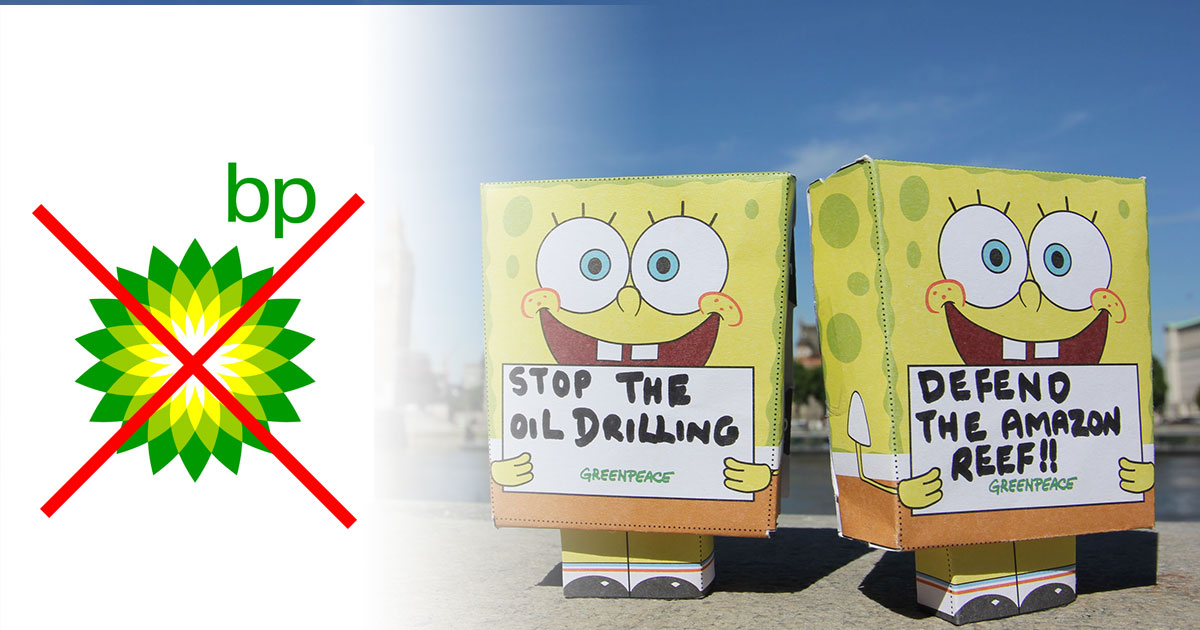 Across the country, an army of tiny SpongeBobs are protesting BP's risky Amazon Reef drilling plan.
They're popping up all over the place, embarrassing BP over their villainous drilling scheme. But we need more, and each one needs a human hand to bring them to life.
Fancy making one? We've made a downloadable template to get you started! All you'll need is a printer, a craft knife, and some imagination.
To win a Greenpeace t-shirt, take your cut-and-fold SpongeBob figure, then send us your best shot of him protesting BP!
How to make your SpongeBob
Got your SpongeBob downloaded and printed out? Let's bring him to life!
1. Write a personal message on SpongeBob's placard, eg 'BP back off the Amazon Reef'
2. Slice the grey lines with a scalpel or craft knife. Always ask a grow-up when using sharp tools.
3. Using scissors, carefully cut out SpongeBob. Don't forget his feet!
4. Fold the dotted lines.
5. Insert the black flaps into the grey slits, matching the letters as you go. You should now have a 3D box!
6. Slot SpongeBob's feet into his body by sliding the yellow flaps into the grey slits. Your SpongeBob is ready!
A Greenpeace t-shirt is up for grabs for the person who can send us a photo of SpongeBob protesting in the best location. We're hoping to see him popping up at petrol stations and landmarks all over the country.
To enter the competition, simply take a photo of SpongeBob protesting in your chosen location and email it to spongebob.uk@greenpeace.org before the end of Sunday 20 August. See here for full terms and conditions.
You can also share your handiwork on social media using the
hashtag #AmazonReef. We can't wait to see where SpongeBob
shows up!
Other posts by Mal Chadwick