Taking Action on Tuna
---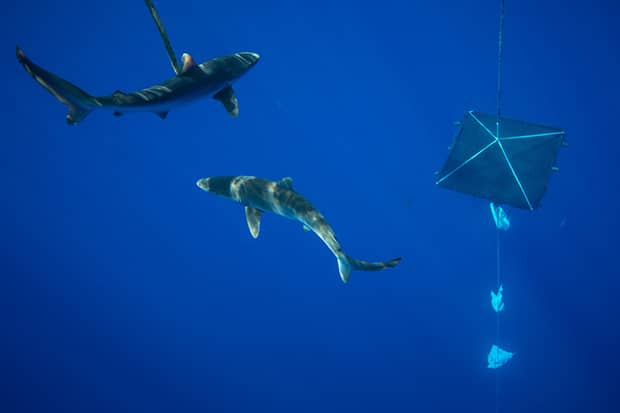 Right now, only two per cent of John West tuna is sustainably caught. The rest is sourced from suppliers who use indiscriminate 'fish aggregation devices' (FADs), which see turtles and sharks killed as bycatch. What's happening out at sea – and being sold in our shops – is having a devastating toll on the marine environment. This is why all of us are so determined to transform the tuna industry.
Last year, thousands of you supported our oceans appeal and wrote to John West. You exposed their destructive fishing methods and confronted them, on- and offline. Instead of listening to what we all had to say, the seafood brand brazenly ignored us. So, we're escalating our campaign, targeting John West at home and at sea. None of us will rest until John West changes its tuna.
At home, this means taking on the supermarkets that profit from selling John West's unsustainable tuna. Your willingness to take action – and the supermarkets' response – has been incredible. First Tesco threatened to drop John West unless it sorts out its supply chain. Then Waitrose did the same. We're now working to push Sainsbury's to ditch John West too.
What's been so amazing about this recent supermarkets campaign is how quickly you and thousands of other supporters have made an impact. 20,000 of you signed the petition to persuade Waitrose to stop stocking John West tuna within the first hour.
Feeling the heat, just days later Waitrose announced it would stop selling John West tuna if it doesn't clean up its act. Why they took this bold step is clear – because, by then, 45,000 of you were breathing down their necks. It's not always about speed, and some campaigns take a really long time to win, but it is exciting when we win big and fast like this.
With tuna stocks on the brink of collapse, our ship the Esperanza's latest expedition has been exposing destructive fishing in the south-west Indian Ocean. Using the latest technology – tools like unmanned aerial vehicles – we're able to investigate what's happening in the high seas like never before. Once we located them and documented their impact, we peacefully removed any FADs we found. We've pulled dozens of FADs out of the Indian Ocean, many of which were linked to both John West and its massive parent company, Thai Union.
It's your support that inspired a crew of 35 activists to head to the frontline and take on unsustainable fishing like this. With you by our sides, we have the mental strength, the mandate and the funds we need to peacefully oppose the destructive methods used by the fishing industry.
Thai Union owns major brands around the world, including John West (UK and Netherlands), Chicken of the Sea (US), Petit Navire (France), Mareblu (Italy) and Sealect (Thailand). We are only able to take on global seafood giants like this because of your support. And we won't stop until our oceans are protected.
TAKE ACTION: Tell Sainsbury's to drop John West
We've sent thousands of emails, hundreds of tweets and inundated their Customer Service phone line with calls – but Sainsbury's still won't speak out against unsustainable fishing.
They seem to think that if they ignore us we'll go away – but that's not going to happen. Tesco and Waitrose have already said they'll stop selling John West tuna unless they clean up their supply chain – so why won't Sainsbury's do the same?
It's time to up the pressure – and we need your help!
Here are three things you can do:
1. Send an email to Sainsbury's CEO.
2. Give Sainsbury's Customer Services a call.
3. Visit your local Sainsbury's store and give the manager this letter.
If the major UK supermarkets refuse to stock this dirty tuna, John West's business will be under threat, and they'll have no choice but clean up their practices. That's why we need Sainsbury's to follow Waitrose and Tesco and stand up to unsustainable tuna!
Please join us in telling Sainsbury's to drop John West! We'd love to hear how Sainsbury's respond when you contact them so please keep us updated! You can email us at team.uk@greenpeace.org
Other posts by Greenpeace UK