5 things the government doesn't want you to know about their headline-grabbing petrol and diesel ban
---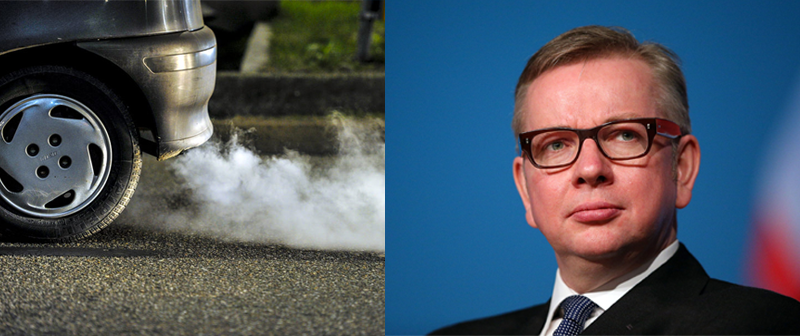 Clocking up a huge selection of front page splashes, the announcement to ban new diesel and petrol cars by 2040 is a clever move from the government's PR team — but is it really all it's cracked up to be?
Well, setting a target to phase out toxic diesel and petrol is a great idea and don't get us wrong, we are overjoyed to see the end of the combustion engine.
But there's some pretty big things that they don't seem to have included in the press release — here's what you need to know.
1. It isn't breaking news.
Setting a target for the end of diesel and petrol is really important. But the government had already said in 2011 that it would need to phase out diesel and petrol cars by 2040. So while this isn't quite news, it is certainly a conveniently timed positive story for a somewhat unpopular government.
2. It could be far too late — and end up redundant.
The car industry is already waking up to electric. Volvo recently announced that they'll produce only electric and hybrid cars by 2019 — that's over 20 years before the government will start banning these toxic vehicles. With other companies seeing that this move makes both climate and business sense — including an announcement that an electric Mini will be made in the UK – there's a good chance there will not even be any petrol and diesel cars left to ban in 2040. In a speech last week, Michael Gove promised us that the UK will be a global leader on the environment. Yet Germany, India, the Netherlands & Norway are all considering bans by 2030 or sooner. When you consider the effect of diesel and petrol on both our health and our planet it is no wonder.
3. It is hiding the government's overall failure to tackle air pollution properly.
Today we found out that the government will not prioritise clean air zones that would stop dirty vehicles from entering our most polluted towns and cities. Simply put, this announcement does little to deal with the vehicles polluting our streets right now. Their own draft clean air plan suggested this would be the most effective way of bringing air pollution into legal limits, but now they seem to have given up. The Mayor of London, Sadiq Khan called the Government's announcement "a half hearted commitment." Considering London broke its legal limit for air pollution for the entire year 5 days into 2017, it's not surprising he feels this way. For those of us that live in heavily polluted areas, clean air zones is what we need from the government — and right now.
4. It places us in danger — especially our young children and older relatives.
Other countries are being ambitious because this is a health crisis. We simply have no choice but to act — and to act boldly. In the UK alone 40, 000 early deaths are linked to air pollution every year, with children and the elderly suffering most with health problems from pollution. Waiting almost a quarter of a century means that we will be exposing two generations of children to potentially irreversible impacts of air pollution. Providing a long term vision is simply not enough, Michael Gove needs to urgently protect us now.
5. It wastes a killer opportunity to halt climate change.
Everywhere we turn we are reminded of the stark effects of climate change, not happening in a far off dream — but before our eyes. But it's also being proved day by day that tackling climate change could transform our world for the better — like by creating jobs in renewables or ridding our streets of pollution that chokes us on our streets. Donald Trump is wasting these opportunities. We think our government can do better.
In the last week Michael Gove has been making some positive first moves as our new Environment Minister. But setting an ambitious target for ending to petrol and diesel would have made him a global leader and protected thousands of lives. As would creating proper clean air zones for the most polluted cities in the UK. This headline grabbing car ban signals the long awaited end of the toxic combustion engine is coming — but it could have meant so much more.
Digital Campaigner at Greenpeace UK
Other posts by India Thorogood