Coca-Cola Released Their Global Plastics Plan – Did They Pass The Test?
---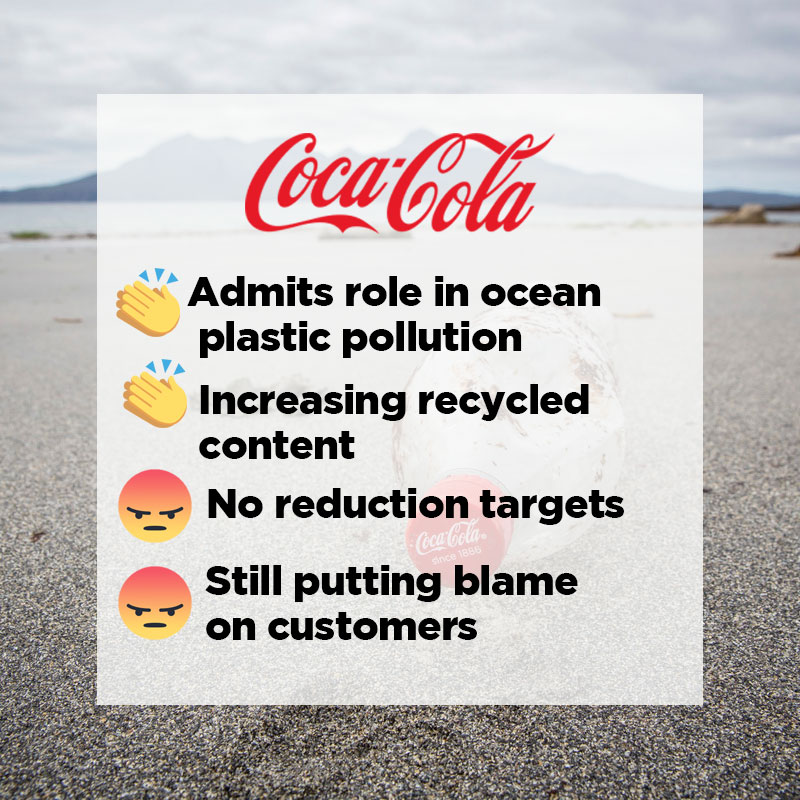 After months of fierce campaigning from Greenpeace offices around the world, today Coca-Cola released their global plastics plan. We challenged Coca-Cola to reduce their plastic footprint and help us end ocean plastic pollution by declaring the end of the age of single use plastics. Does their new strategy pass the test?
Top Marks
There's no doubt that people power played a huge role in convincing Coca-Cola to admit the role they play in ocean plastic pollution and to actually develop a global plastics plan. Over half a million people signed the petition calling on Coke to stop choking our oceans. Thousands of you emailed Coke's CEO, posted on their social media channels and supported direct action at their HQs around the world! We also successfully got Coke to U-turn on deposit return schemes and they now support a UK-wide scheme. If it wasn't for the pressure exerted by thousands of Greenpeace supporters across 5 continents, none of this would have happened. We managed to influence the largest soft drinks company in the world and that is definitely something worth celebrating!
Room for Improvement
Together we convinced Coca-Cola to take action on the paltry 7% recycled content they use in their bottles globally  – the drinks giant has now committed to a target of 50% recycled content in all countries by 2030. This is a big improvement on their previous target, and its because of people like you that they are making this change. Could they go further? Well on the same day that Coca-Cola made this pledge  Evian have announced that they plan to create plastic bottles using 100% recycled content by 2025. It remains unclear why Coca-Cola cannot match Evian.
Nice Try
Coca-Cola global have pledged to make their products 100% recyclable and give no deadline for achieving this target in their plan. Given that polyethylene terephthalate (PET) – the material that they use to make their bottles –  is 100% recyclable anyway, this is straight up marketing spin! Meantime Coke Europe have gone a bit further and pledged to make their packaging recyclable or reusable by 2025 – which could be significant and help reduce the number of bottles that choke our oceans. We will be keeping up pressure on Coke Europe to be more specific about the details for how they will increase reusable bottles and provide us with a timeframe. With up to 12 million tonnes of plastic entering our oceans every year, we need urgent action now.
Their pledge to work with local and national partners to collect the equivalent of 100% of their packaging and to inspire their consumers to recycle sounds good – but what it actually means isn't clear – is it investment in publicity campaigns? Investment in deposit schemes? How much money is actually being committed? We will be urging Coke to be more transparent about the detail behind this soundbite. But the bigger point is it's not enough for Coca Cola to try and offset its huge plastic footprint by investing in a bit more recycling at the same time as it sells billions more bottles each year. China's refusal to accept more plastic waste, and the resulting backlog in plastic exporting nations, shows that we can't recycle our way out of this mess while we continue to make the mess bigger – which we why need the drinks giant to make moves on reduction.
Massive Fail
Along with pledging to increase recycled plastic content, Coca-Cola have signalled that they plan to invest more in PlantBottle – which are made from a mixture of plants and plastic. But bottles made from plants (or bio-plastics as they are known) aren't as green as they sound. The problem is that bioplastic acts just like plastic in a marine environment. They become choking and entanglement hazards for wildlife and break down into microplastics causing the same environmental harm. Also scaling-up the production of single-use bioplastics – like Coke's PlantBottle – raises serious concerns about the diversion of great swathes of land that could otherwise be used to grow food crops. Plant bottles are not the answer.
At a time when the UK government and other retailers like Wagamama, Leon and Iceland are pledging to ditch single use throwaway plastic, it's shocking that Coca-Cola have not included any reduction targets in this announcement. We would have liked to see more refillable bottle schemes and investment in alternative delivery systems similar to the once they are currently piloting at the University of Reading and at Georgia Institute of Technology. We need to see schemes like this rolled out around the world and for Coca-Cola to release a detailed and concrete plan on how they aim to achieve this.
The Fight Continues
Although Coca-Cola's announcement falls short of what is needed from one of the world's biggest brands, together we have achieved a huge amount  –  in less than a year, we got the world's largest soft drinks company to admit their role in ocean plastic pollution,pressured them into developing a global bottle strategy, led them to increase the amount of recycled plastic content they use globally and got them to come out in support of deposit return schemes in the UK. That is huge! Whilst their announcement falls far short of what's needed, that's why we will be keeping up the pressure on Coke and other big users of throwaway plastic to take the bold steps we need to stop our oceans being treated like a dumping ground.
I am a campaigner on the oceans team.
Other posts by Tisha Brown