This Earth Day We Asked Supermarkets to Reduce Their Plastic Footprint
---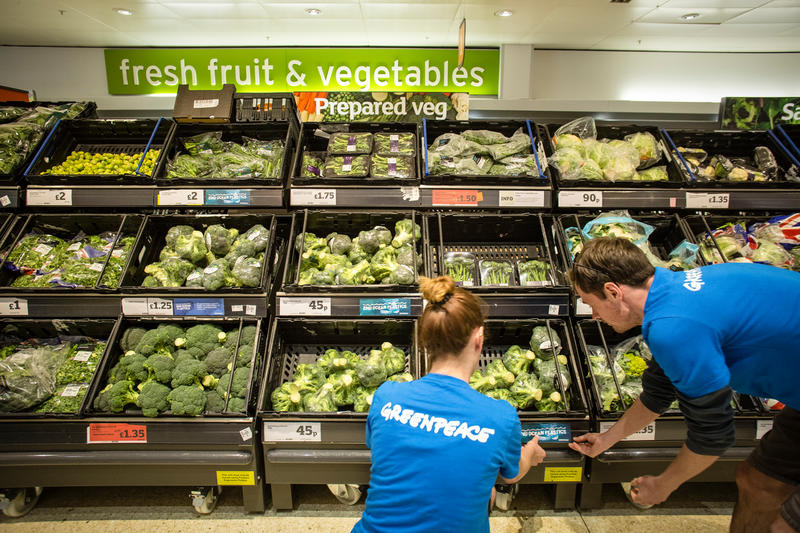 As part of our campaign for supermarkets to get rid of throwaway plastic packaging, we celebrated this year's 'End Plastic Pollution' themed Earth Day by taking action in stores around the country. With a truckload of plastic entering our oceans every minute, up to 12.7 million tonnes of plastic is currently being added to the ocean every year. Once plastic is in the ocean, it becomes a hazard for marine wildlife. They can become entangled in it or mistake it for food and choke on it. Larger pieces of plastic break down into microplastics which many marine animals have accidentally ingested. It's estimated that 1 in 3 sea turtles and 90% of seabirds have eaten plastic.
But it doesn't stop there. Plastic has started to make its way back up the food chain and has been found in everything from seafood to beer, salt and even our drinking water. We simply use too much plastic. And supermarkets have a role to play. In the UK, supermarkets produce almost 1 million tonnes of plastic every year. They also use loads of excess plastic packaging – so even if you want to reduce your own personal plastic footprint, the moment you do your daily food shop you are inundated with fruit and veg wrapped in plastic. And even if loose fruit and vegetable are available, supermarkets generally only provide plastic bags to put them in!

So for this Earth Day, Greenpeace volunteers took action to highlight supermarkets' plastic packaging problem. Up and down the country, local Greenpeace groups visited supermarkets and replaced the plastic fruit and vegetable bags with FSC certified paper ones (which had the added bonus of explaining the campaign for anyone who picked one up!). They also re-labelled the shelves of overly-packaged fruit and veg to highlight the problem.

Whilst switching all packaging to paper products can lead to its own unintended consequences (like deforestation), we wanted to highlight that there are really easy changes that supermarkets can make right now to reduce their plastic footprint. It wasn't too long ago that all fruit and vegetables were available for purchase loose! And whilst food waste is a concern, there is no evidence that plastic packaging has actually led to less food waste. In fact, a report from Friends of the Earth Europe and Zero Waste Europe shows that an increase in plastic packaging has had no effect on food waste – both have just increased over time.
We need immediate action by supermarkets if we are to end ocean plastics. Add your name to call on supermarkets do their bit to dramatically reduce the amount of plastic packaging that they use. Please sign and share our petition today.
I am a campaigner on the oceans team.
Other posts by Tisha Brown