New Greenpeace Research Finds Microplastics in Scottish Seas
---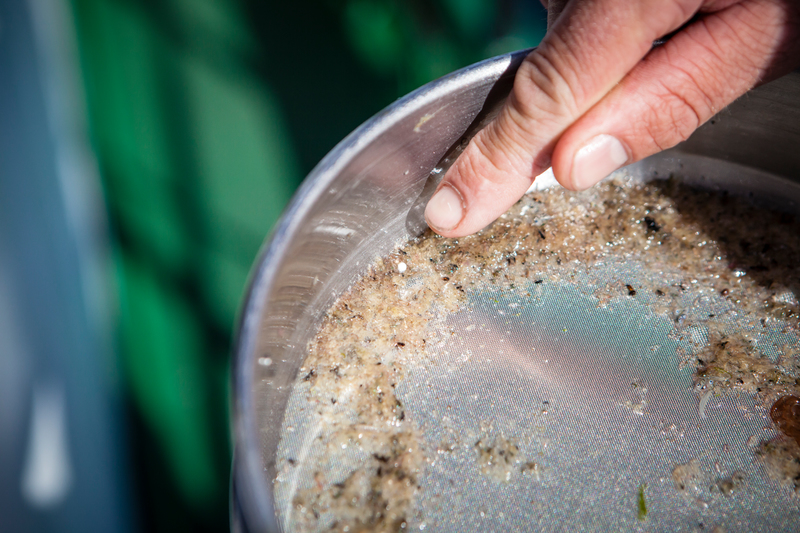 Last year, Greenpeace sailed around the coast of Scotland to investigate the impact of ocean plastic pollution on iconic Scottish wildlife. Starting in Edinburgh, the MV Beluga II sailed through the Caledonian canal to the Outer Hebrides. On the way there, we encountered many marine wildlife hotspots like Bass Rock which is one of the largest seabird colonies in the world. There we found thousands of gannets but we also found plastic in their nests and beaks. This was a pattern that was repeated throughout the tour. Whether it was the Shiant Isles or the most remote beaches in the Outer Hebrides, we kept finding stunning landscapes and iconic marine wildlife along with plastic bottles, packaging, microbeads and debris on beaches, in nests and in seabird beaks.
Along with documenting landscapes, wildlife and plastic pollution, we also wanted to investigate the amount of microplastics in the seawater. Larger pieces of plastics in the ocean breaks down over time into microplastics which are pieces of plastic that are 5mm or less in any direction. To help us study their presence in Scottish waters, we collected 49 seawater samples during the expedition using a mantra trawl that skims the top surface of the seawater mimicking the feeding motion of marine wildlife. The samples were then frozen and taken to our laboratory at the University of Exeter where they were analysed firstly for the presence of microplastics and secondly for any chemical contaminants attached to the microplastics.
The results have come in and we found microplastics in two-thirds of our seawater samples. We also found a host of chemical contaminants some of which are considered to be hazardous. It is important to note that the concentration levels of the microplastics were much lower than those found in other parts of the world. There was also no clear pattern of chemical or plastic distribution. However this report does show that microplastics have made it to even some of the most remote parts of Scotland. And whilst the samples were taken in marine wildlife hotspots, more research is needed to fully understand microplastic impacts on marine wildlife.
What we are certain of is that a truckload of plastic enters the oceans every minute and some of it has made its way into Scottish waters. It is therefore important that we reduce the amount of plastic produced and we do that by holding retailers and governments to account. Supermarkets produce almost 100 million tonnes of plastic every year but we think that they should go plastic free.  We also think that Westminster should join Holyrood in enacting a UK-wide deposit return scheme. These are schemes where you pay a little bit extra for a plastic bottle and have the money refunded once the bottles is returned for recycling. These schemes have been used in many countries and have been credited with increasing recycling rates of up to 96 percent. Join us in demanding a UK-wide deposit return scheme. Together we can work to end ocean plastics.
I am a campaigner on the oceans team.
Other posts by Tisha Brown