Nice Try Coke But Your New European Bottle Strategy Isn't Good Enough
---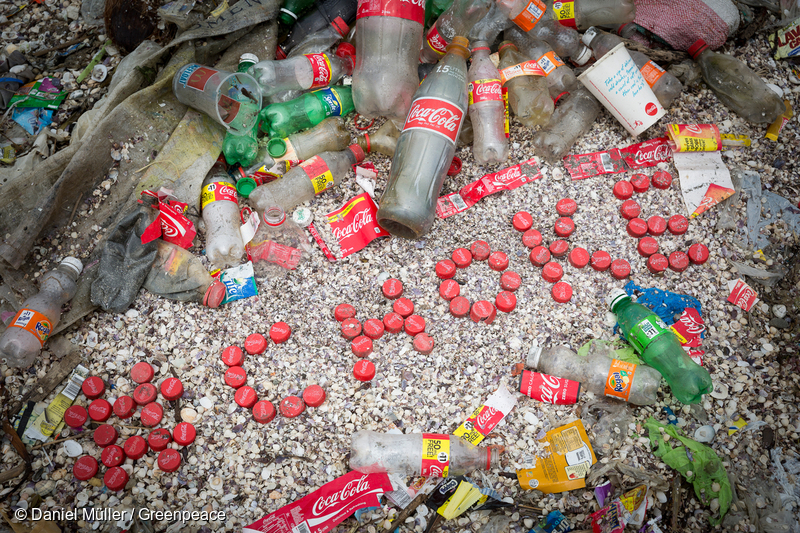 This week Coca-Cola released their European sustainability strategy. Thanks to continued pressure from you, it looks like they are finally starting to own up to their enormous plastic footprint and the impact that it's having on our oceans. Some of the pledges that Coca-Cola have made sound encouraging but is it all what it's cracked up to be?
Are They Switching to Reusables?
Coca-Cola have pledged to make their products 100% recyclable or reusable by 2025. Given that polyethylene terephthalate (PET) – the material that they use to make their bottles –  is 100% recyclable the first part sounds like marketing spin. However a switch to reusables would be significant and reduce the number of bottles that choke our oceans. However they need to be more specific about the details, specifically what percentage of their bottles are they planning to make reusable? Also it's important to note the timeline. By 2025, we'll have about 100 million additional tonnes of plastic in our oceans. Our oceans are already choking with plastic. We need urgent action now.
Similarly, their pledge to work with local and national partners to collect 100% of their packaging is ambitious but what does it mean exactly? If the past is anything to go by, this means more emphasis on recycling schemes which shifts the blame to consumers. It's not clear from this announcement whether Coke will now have a policy of supporting deposit return schemes (DRS) – which can lead to bottle return rates of 95% – across Europe. Following pressure from Greenpeace and others, Coke GB recently came out in support of DRS across the UK but they aren't actively supporting it in other European countries. Is this set to change?
50% Recycled Plastic Content Is Nothing to Celebrate
Coke Europe say they want to ensure that all of their bottles are made from 50% recycled plastic content by 2025. But that isn't ambitious when you consider that other soft drinks companies have managed to create bottles using 100% recycled plastic. Also globally Coke are only use a paltry 7% recycled plastic in the bottles. When will this change?
Alternative Delivery Systems Not More Plant Bottles
Coca-Cola's pledge to lead the way in pioneering sustainable packing  is important. We need smart and innovative ways of delivery drinks like the smart fountains and refillable bottles that they are currently piloting at the University of Reading. We need to see schemes like this rolled out across Europe and for Coke Europe to release a detailed and concrete plan on how they aim to achieve this. What we don't need are more plant bottles made from biodegradable plastic. Bio-plastic acts just like plastic in a marine environment. They become choking and entanglement hazards for wildlife and break down into microplastics causing the same environmental harm. Plant bottles are not the answer.
Plastic Pollution Isn't Just in Europe
Overall, these commitments need to go further if Coke are going to stop their plastic bottles choking our oceans. It's important to note that this is just their strategy for Europe. But our oceans know no boundaries. Plastic that ends up in the ocean from the UK can travel on the ocean's current around the world. We need Coke to reduce their global plastic footprint and stop producing the 110 billion single use plastic bottles that they churn out each year.
The good news is that Coke is starting to listen to the thousands of you who have taken action. So let's keep up the pressure! Coca-Cola are currently working on their global sustainability report due at the beginning of next year. Let's get them to come up with a global sustainability plan that goes further. Keep signing and sharing the petition. We can win this!
I am a campaigner on the oceans team.
Other posts by Tisha Brown