"Plastic pollution is everywhere. It was on every beach we surveyed."
---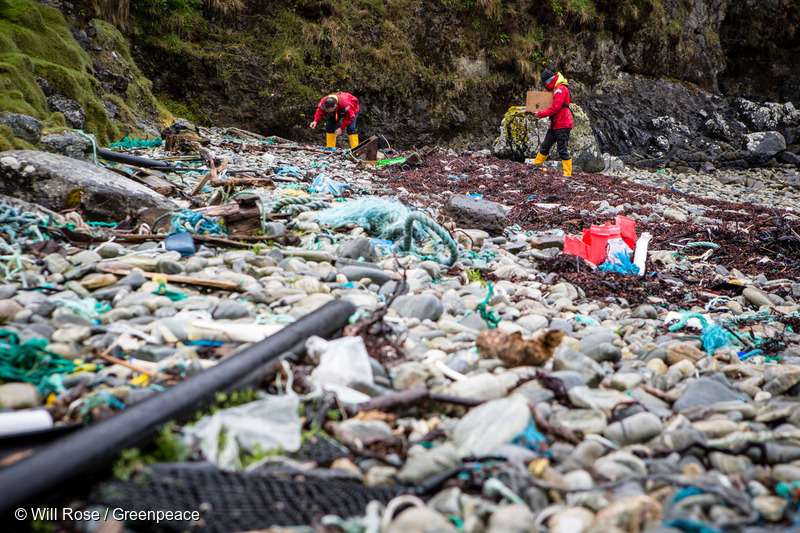 Below is the transcript of a speech given by John Paterson, a member of Greenpeace Inverness who joined the Beluga expedition on the land team.
My name is John Paterson. I am a non-practising Marine Biologist who has always had an interest in the sea and has supported Greenpeace for many years. I now live near Inverness where I am part of the growing Greenpeace Inverness group.
I was very pleased to have the opportunity to volunteer for the Beluga Expedition as a member of the land team. Not only did it mean I could help investigate and record marine plastic pollution but also that it would take me back to areas of Scotland that I loved and cherished from my childhood through into my mid-late twenties. Indeed I met old friends I hadn't seen for twenty plus years… I'm not really of the Facebook generation.
I was brought up in the small town of Girvan right by the beach in the south west coast of Scotland and then lived and worked in the coastal environment of Oban to Mull to Fort William to Lewis and finally Skye.
I then spent nearly the next twenty years in England, living in Tring. A town that is reputedly one of the most distant from any of the UK coastline. I lost touch with the sea.
On volunteering to join the expedition, I have to be honest I didn't really see the point of surveying Scotland's beautiful pristine beaches.
They used to be clean, the sewerage problems have been in the main sorted and from memory only some glass, timber or metal cans would be evident. Surely there are other parts of the world that are worse.
Indeed in Scotland 20-25 years ago if you bought plastic bottled water you were likely to be ridiculed as posh and pretentious. Irn-Bru came in returnable glass bottles – problem sorted!
Returning 20 years on. I was wrong, very wrong.
What we discovered has truly shocked me.
Plastic pollution is everywhere. It was on every beach we surveyed.  
We surveyed 40 beaches, covering the areas of Mull, Iona, Staffa, Skye, Rassay, Eigg, Lewis, The Shiants, Great Bernera, Harris and North Uist.
Some beaches initially looked clean but on further investigation weren't and some were so polluted with plastic that we could not physically record what was there. We could only photograph it.
We intentionally picked some very remote beaches and on occasions had to walk in for an hour or so to conduct the survey. We also had the use of a RHIB (Rigid-Hulled Inflatable Boat) to investigate larger areas.
For the surveys we used the Marine Conservation Society (MCS) methodology of identifying a 100m section running horizontal to the sea and then recording all plastics found between the strandline (tide mark) to the back of the beach, be it the grassy vegetation, rock wall or some other determining feature. The MCS recording sheets contain approximately 120 separate identifiable items. However, small pieces are difficult to positively identify as to what they originally were and are recorded as "small plastic".
We discovered all sorts of plastic pollution.
Ranging in size – from large to small. We found tens of metres of coiled plastic pipe, which I understand to be fish farm feed piping through to hundreds of small plastic fragments.
The plastic pollution was spread across industrial and/or marine based to land based /domestic items such as single use plastic bottles, (predominantly Coca Cola and their associated brands such as Fanta, Lilt, Sprite and Schweppes) food packaging, plastic bags, cosmetics related packaging, cotton bud sticks and very sadly numerous balloons still with strings attached declaring "happy messages"…
A depressing example of an everyday disposable item turned into a wildlife trap.
We even found a Go-Pro type camera in its waterproof case on the shore of Loch Caroy, Skye. We hoped to film plastic pollution with plastic pollution but the battery wouldn't hold charge. From info on the memory card we believe it had been in the sea for two years. We aim to return it to its owner.
I said I was shocked and I am because sadly the survey methodology does not allow for the full picture.
The survey is visual, so minute particles are not recorded; it's area specific on the beach and doesn't involve digging down and/or moving rocks. It is also a snap shot in time.
Plastic pollution, specifically single use bottles/containers are finding their way further up the beach into sand dunes and into the machir type vegetation. This was very evident on the west coast of North Uist.
Regularly, We saw evidence of stratified layers of plastics on some beaches where fresh water streams had eroded the bank. We witnessed vegetation growing up through and adapting to large piles of plastics.  There was also numerous piles collected from previous beach cleans with no opportunity/resources to fully recover the waste.
All in all I believe the problem is far worse than was recorded.
For me, single use plastics are now very much more "visible" in my everyday life.  
As a consumer I know what I can do…reduce my usage, refuse, reuse, recycle but I personally believe that single use plastics should be outlawed.
Plastic pollution wasn't on those beaches 20-25 years ago. What an environmental mess in such a short period of time.
Beach plastic is the visual testament to the obvious problem of a throw away society, the tip of the iceberg regarding ocean plastic pollution. From manufacturers to consumers, we all need to address this problem.  
I am a campaigner on the oceans team.
Other posts by Tisha Brown