When six women climbed the Shard everyone knew it was a landmark moment. Two months later 3000 people walked with the world's largest polar bear to Shell's headquarters. Three days after that 28 peaceful activists and two journalists were arrested at gunpoint. We were practically tripping over the landmark moments in 2013.
With each amazing event came an incredible photo. But which one sums up 2013 as a whole? What was that defining image that set the tone for this year, and captures the spirit of Greenpeace?
Volunteers, photographers and staff at Greenpeace have picked their favourite photos of 2013. Now it's your turn. From this shortlist you can vote for the image you think deserves the title of Greenpeace Photo of 2013.
1. The Rainbow Warrior in New Zealand
The Rainbow Warrior was in New Zealand earlier this year, heading towards the Cook Strait where Texan oil company Anadarko was prospecting. A campaign is still being run in New Zealand to protect this beautiful and fragile environment against deep sea oil drilling.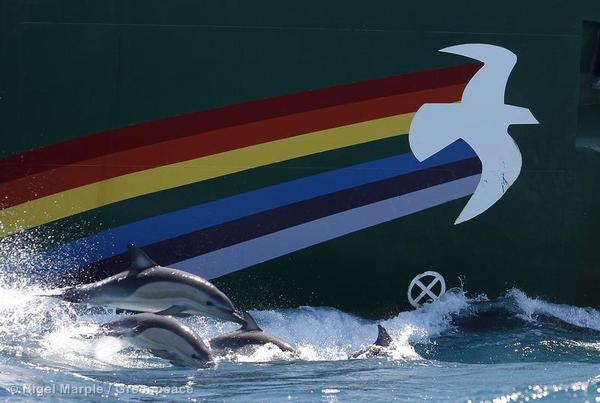 Picked by John Cobb, photographer for Greenpeace, and Ange on the picture desk

John said: "It is so optimistic and full of hope! After such as challenging few months it is a picture which looks to the future.The fantastic light and the symmetry of the dolphins sitting alongside the new Rainbow Warrior's arrival in New Zealand makes it my choice. There are lots of other really evocative images but this one stands out to me."

Ange said: "I like it because it's timeless and symbolic for what Greenpeace stands for, combining nature and peace. I totally out myself as a sentimental hippie, but it's a nice shot!"
2. Toxics in Chinese agriculture
Greenpeace is currently investigating the use of pesticide residue in Chinese herbal medicine, highlighting the need to eliminate toxics in chemicals in industrial agriculture.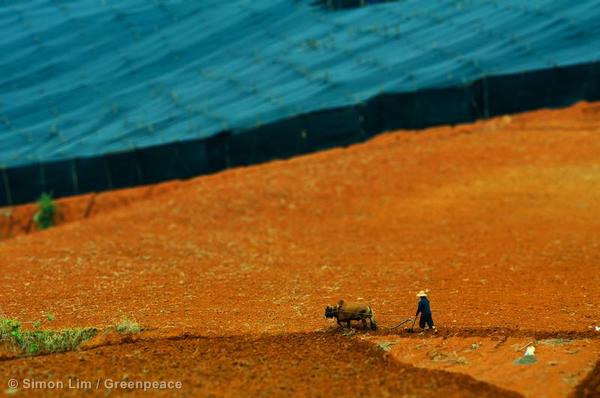 Picked by Pete, digital campaigner
Pete said: "This is a pseudoginseng farm in Yunnan province, China. The current crop is under the black netting in the background while a farm labourer ploughs a field ready for the next crop. Pseudoginseng is used in herbal medicine and has recently been found to have 17 times the amount of toxic pesticide residue allowed. The colours make this a very striking image and the use of tilt-shift style photography make the labourer look miniature while the potentially toxic pseudoginseng crop towers over them. This image shows an example of the investigations work that goes on behind the scenes of every campaign and is something that we rarely talk about."
3. Oil spills in Russia
Oil spills in Siberia are a daily occurance, devestating thousands of hectres of woodland. Six months later the photographer who helped to bear witness to this environmental disaster zone - Denis Sinyakov - was arrested as part of the Arctic 30.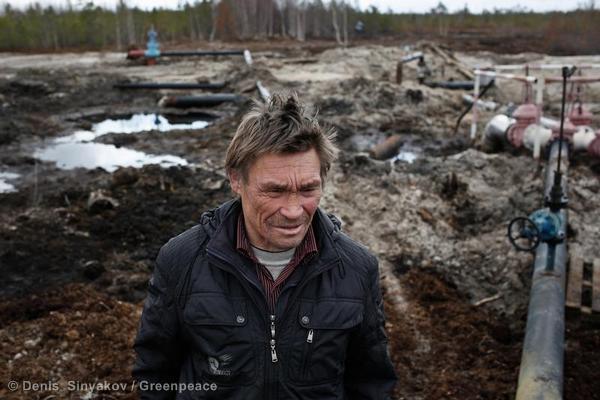 Picked by Athen, volunteer
Athen said: "This shows what we're fighting for."
4. Forest fires in Sumatra
In June devastating forest fires broke out in oil plantations in Sumatra. They were captured by Greenpeace photographers, bearing witness to these acts of environmental destruction.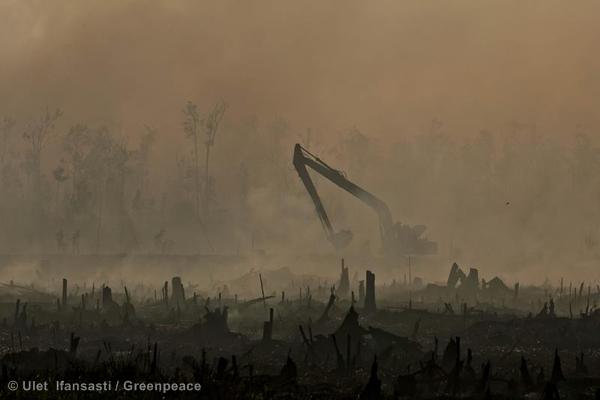 Picked by Richard George, forests campaigner

Richard said:
"During the forest fires in Sumatra, our photographers caught this digger abandoned half way through digging a drainage ditch for a plantation. The draining of peatlands is what makes the fires possible – peatland should be a swamp."
5. Six women climb the Shard to save the Arctic
In July six women climbed Europe's tallest building to protest against Arctic drilling. They chose the Shard because it towers over Shell's three London offices. Shell are leading oil exploration in the Arctic.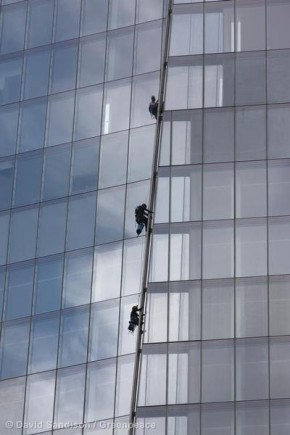 Picked by Victo, Shard climber
"To me, this picture looks a bit lonely - three small figures on a huge building. But that couldn't be further from the truth. I love this picture because it shows some of the team climbing together. And togetherness was what that day was all about!
From the builders inside the Shard who gave us smiles and thumbs up all the way, to reading the incredibly supportive messages on Twitter as we made our way up, to hearing a crowd of people pound their hands on the outside of the police van as we were taken away - we were surrounded by support and love.

Feeling people coming together to save the Arctic in such a powerful was incredible - and it made me all the more certain that we will achieve this enormous goal together."
6. Oil spills in Thailand
More than 50,000 litres of crude oil spilled into the sea, destroying the once pristine beaches of Koh Samet. Greenpeace is calling on the Thai Government to review its energy policy and end its dangerous oil drilling in the Gulf of Thailand.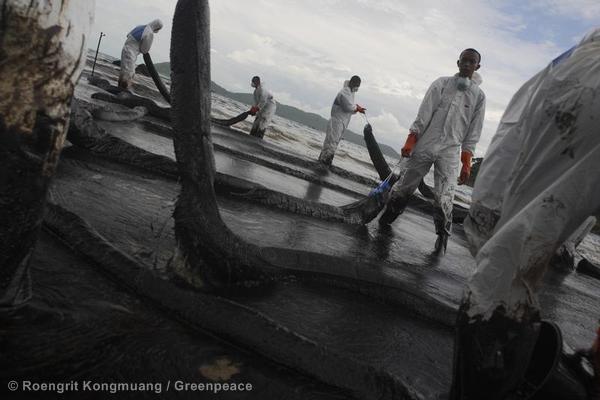 Picked by Esther, volunteer
Esther said:
"It's almost 10 years ago to the day that I stood on this beach in Thailand. It was breathtaking. When I saw these photos in the summer I was heartbroken (and furious!), but it reminded me of why I give up my evenings and weekends to volunteer with Greenpeace."
7. Arctic Sunrise enters the Kara Sea
In August the Arctic Sunrise entered the Kara Sea to peacefully protest against Arctic oil drilling. The following month the Arctic Sunrise, her entire crew, and two peaceful journalists would be arrested at gunpoint by Russian special forces.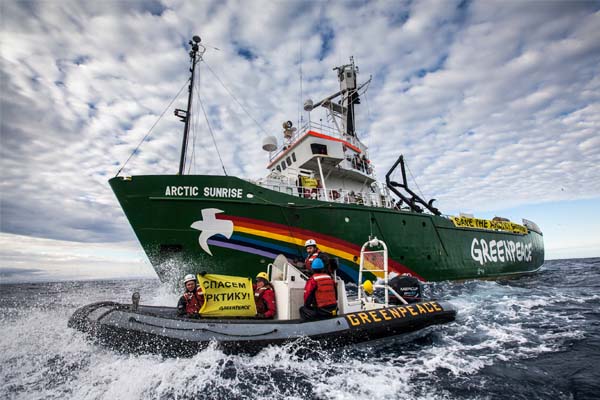 Picked by: Jiri Rezac, photographer for Greenpeace
Jiri said:
"Somehow this strikes me as the most iconic picture of Greenpeace activity this year, and is a symbolic representation of what was to come: the clouded sky, the ship, the location ahead of the protest and its aftermath.
"Of course nobody could foresee that, but the image expresses this so well - the harmless inflatable, banners and ship, doing their thing in a complete non-action that galvanised the imagination, indignation and action of millions of people around the world following the arrest of our activists."
8. Ice Ride, India
Ice Ride Mumbai was one of many events taking place around the world on 15th September, as part of the Global Day of Action to save the Arctic. In the UK this included thousands walking with the world's largest polar bear to Shell's headquarter's in London.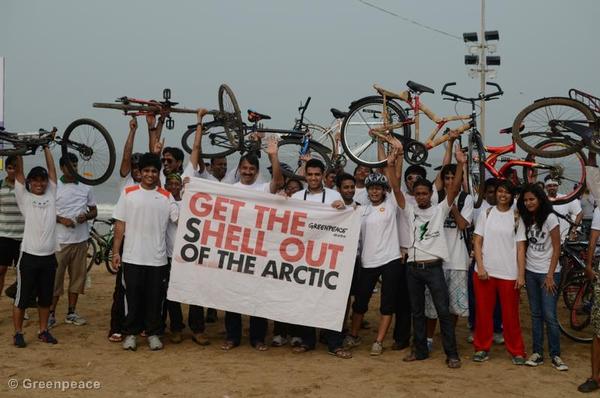 Picked by Jane and Roisin, volunteers

Jane said:
"Greenpeace is about the world coming together peacefully to bring about positive change. What could illustrate that more than people in India campaigning to save a part of the world that couldn't be further in distance from them than the Arctic."
9. Arctic 30 member, Sini Saarela, sends a message to supporters
At her bail hearing in Murmansk, Finish activist Sini Saarela held up a simple handmade sign. It became one of the most iconic images of the Arctic 30 story around the world.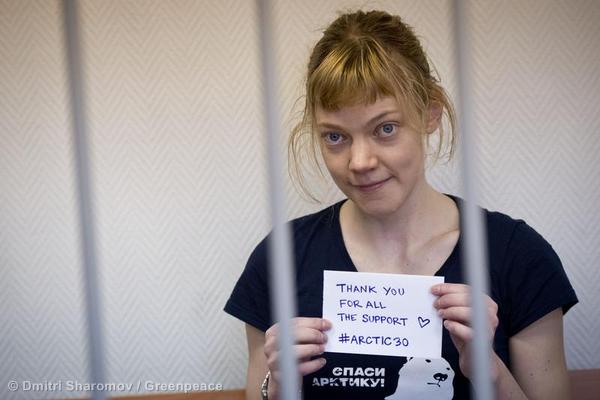 Picked by Sara, Arctic campaigner, and Greenpeace volunteer, Rakesh
Sara said:
"I think this picture of Sini sums up the dignity and courage of the Arctic 30, and the message she holds speaks to the global movement who acted in solidarity with them, and who continued to call for Arctic protection."


Rakesh said:
"Sini's bravery is amazing, she along with Marco were arrested first. This image taken during the hearings where they were charged with piracy, shows the determination of a woman who knew she would not be released."
10. Arctic 30 member, Frank Hewetson, leaves prison in Russia
After 65 days of detention British activist, Frank Hewetson was released on bail in St Petersburg. Although all the Arctic 30 are now out on bail, they still face ludicrous charges for a crime they did not commit.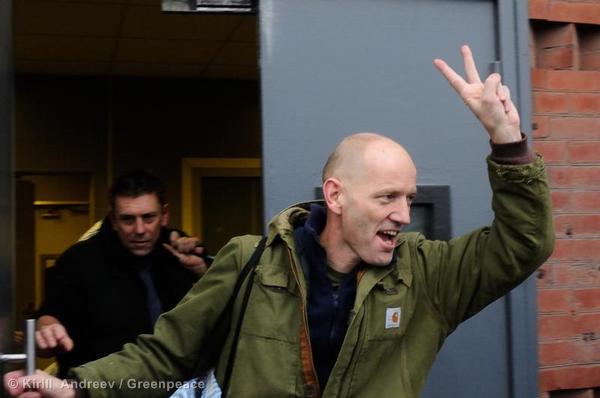 Picked by Steve Morgan, photographer for Greenpeace and digital campaigner, James.
James said: "The world needs more Franks."
11. Logistics in St Petersberg
Alongside the Arctic 30s legal team, staff and volunteers have been working day and night in St Petersberg to support the Arctic 30 and their families. They will be there over Christmas and will remain until everyone has been returned home safely.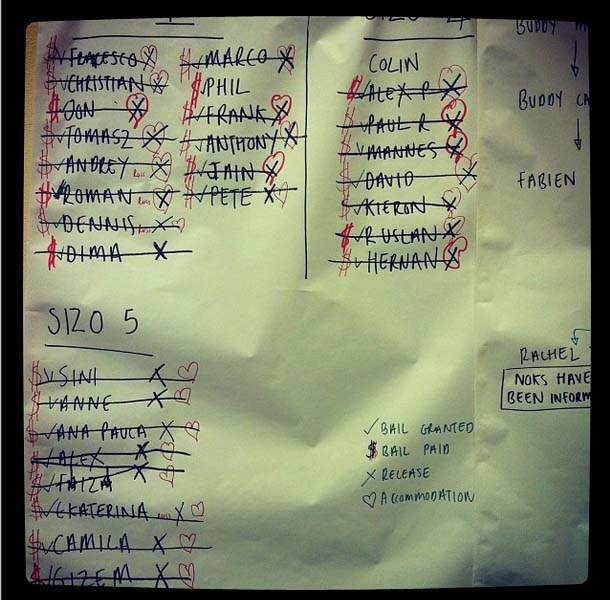 Picked by Nick Cobbing, photographer for Greenpeace.
Nick said:
"I'm a professional photographer with lots of fancy cameras so it might seem strange that I've chosen a photograph taken on a smart-phone, but sometimes those fancy cameras stop us from seeing the importance of everyday things. Rachel [who took this photo] was one of the many people working tirelessly to secure the release of the Arctic 30 in St Petersburg. When they were freed she made a list of the final stages of their release, so none of them had been forgotten. I like it that she used a heart to mark whether they had been allocated accommodation. We all know that this list is unfinished, I don't know what the fifth symbol would be for them returning home from St Petersburg -I hope that is soon."
To vote for the photo you think deserves the title of Greenpeace Photo of the Year, simply LIKE the image on Facebook.