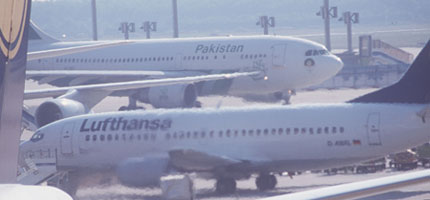 Update - 1st August: The hearing is underway.
---
Here's a doozy for you: on Wednesday, the aviation industry is taking five million people - including a lot of their own staff - to court. If you're a member or supporter of a group that's concerned about climate change, the chances are you're a defendant too.
The industry seems to want to ban five million of us from Heathrow and all routes to the airport, including the Piccadilly line, parts of the rail network, and sections of the M25 and M4.
In three weeks' time, the Camp for Climate Action is due to gather near Heathrow to peacefully protest against Heathrow's vast contribution to climate change (the airport's planes emit more greenhouse gases than many individual countries) and its planned runway expansion.
The owner of Heathrow, the British Airports Authority (BAA), seems to be, frankly, terrified.
It's seeking an injunction, which names as defendants "all persons acting as members, participants or supporters" of anti-aviation group Plane Stupid, anti-noise group HACAN and AirportWatch. The injunction is to stop people from setting foot on Heathrow and "the arterial infrastructure serving" it.
So far, so good. Just another example of the aviation industry's corporate bullying, albeit a draconian one.
But the interesting bit is that AirportWatch, named on the injunction, is just an umbrella organisation. Its member organisations include the National Trust, the RSPB, the Woodland Trust, the Campaign for the Protection of Rural England, Transport 2000, Friends of the Earth and Greenpeace, among many others.
The combined supporter base of these organisations is well over five million people.
And it includes the Queen, patron of the RSBP and CPRE. Prince Charles, president of the National Trust, would also be banned from Heathrow and its surrounds - as would Imran Khan and Shane Warne, who recently fund-raised for HACAN.
Even more bizarrely, the injunction covers many of BAA's own staff. Their 2006 Corporate Responsibility report (pdf) tells us that BAA sent its airport staff to the RSPB nature reserve at Lochwinnoch "where they spent the day building nest boxes for the native bird population". Which seems to me to fit the description of "persons acting as members, participants or supporters".
When we got the news, after sitting around open-mouthed for a bit, we suspected that BAA didn't know who or what AirportWatch was; they'd panicked, we thought. Hadn't done their research.
But 'a source' who's spoken to BAA has just told us that BAA is deliberately making the ban as broad as possible, and leaving it up to the police to apply it with common sense. Which means, if BAA wins, the police will have the right to stop you, me or Her Maj from, say, getting on "all railway trains and carriages operating upon the Piccadilly line"...
I've been trying to get hold of an electronic copy of the injunction for all the defendants out there but I've had no luck so far (the version delivered was so large it filled four ring-binders). If I manage, I'll post it here.
Take action!
If you're not one of the defendants and are feeling a bit left out, feel free to show a bit of solidarity; just sign up to a green organisation of your choice. If we can get another five million people banned from Heathrow, BAA might find it doesn't need its third runway after all... In fact, they could solve all their problems of lost luggage, queues and general chaos while they're at it.