What a week! Writing this feels a bit like a deja-vu. Why? Because that's exactly what we said last week when news broke that Australia's Federal Court had overturned the approval of one of the world's biggest coal mining projects. Only to be followed by Australia's biggest bank calling it quits on the project on the same day.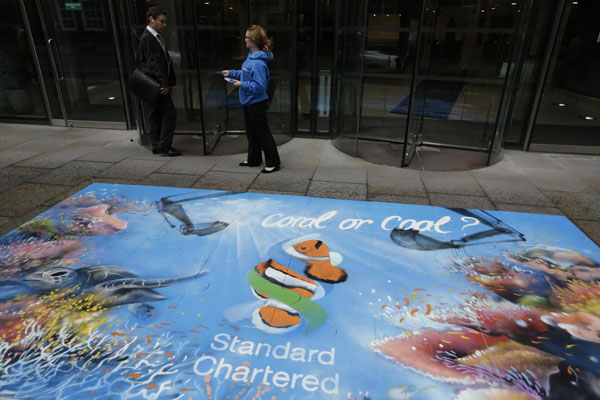 We knew we had a unique chance to secure an even bigger win for the Reef and get UK bank Standard Chartered to walk away from this destructive project. And with your help we seized the moment and won! Immediately after the big announcements in Australia, Greenpeace supporters all over the world emailed Standard Chartered's CEO to tell him to clean up the bank's act and get out of the Reef as well. The next day Greenpeace activists rebranded Standard Chartered's ATMs all over Hong Kong, sending a clear message that people around the globe were watching.
At the same time we started reaching out directly to major shareholders of Standard Chartered. We sent a detailed briefing to many of the bank's biggest investors explaining to them why they should ask Standard Chartered to cut its ties to this mega coal mining project that could destroy the Reef. And then on Monday it all paid off: Standard Chartered announced that they would no longer help to get this monster mine off the ground.
This is a victory for all of us! And it is a big one. Not only would the rail and port infrastructure that is needed for mine directly threaten the Great Barrier Reef. The emissions from the coal that was meant to be dug up are absolutely staggering. At full capacity burning the coal from just this one mine would emit more than four times what the whole country of Ireland emits. Every year. With Standard Chartered walking away from the project, the company trying to build the mine now has no bank left helping them to actually come up with the money to pay for the construction.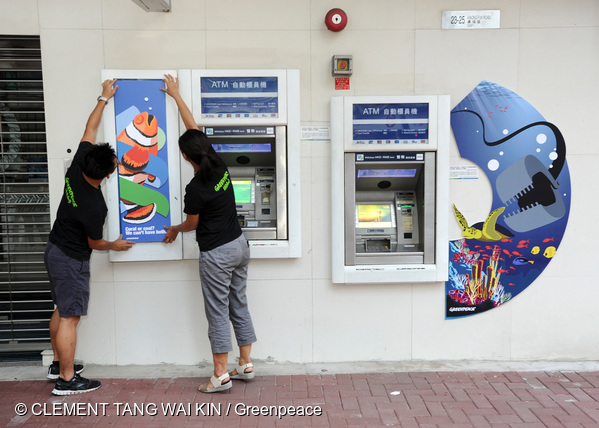 Even more importantly, thanks to all your support, coal mining in the Great Barrier Reef is now on the ropes, and will be seen as a massive reputational risk to any other banks considering going near this toxic project. That's what people power can do!
Today is a remarkable milestone in the battle to protect one of the world's great ocean wonders. Together, we've dealt a huge blow to these reckless plans which would put the entire ecosystem of the Reef at risk and contribute to dangerous climate change.
We're a giant step closer to stopping this monster mine for good but the fight is not over. That's why we're not easing up our efforts to protect the Reef and kill off the Carmichael project for good. All eyes are now on the Australian government, who are yet to see the writing on the wall for this doomed project. Stay tuned.
P.S. Feel like celebrating? Why not spare a minute and go over to Standard Chartered's Facebook page to tell them that they've done the right thing and thank them for choosing coral, not coal.
Sebastian Bock is Greenpeace UK's investment campaigner. You can follow him on Twitter here: @sebastianbock