Next week, Donald Trump will be sworn in as the 45th President of the United States, after a year when, around the world, the politics of hate, fear and division too often blossomed. He'll be a President that has not only denied climate change but attempted to divide our world and send a message of hatred.
But we at Greenpeace are rejecting the narrative that there is more that divides us than unites us. The small things each of us do every day to build green, peaceful and just communities - those billion acts of courage - tell a very different story. It's all of our job to make sure that that story wins out.
That's why on January 20th, as Donald Trump is inaugurated, Greenpeace will join with allies and supporters to send a loud, clear message of connection over division under the banner of #BridgesNotWalls.
Across the UK and the rest of the world, banners will be dropped from bridges to send a message of hope and defiance. Each bridge will represent a different issue, in London, London Bridge will present a message of anti-racism, Vauxhall bridge will promote gay rights & Blackfriars bridge will be all about protecting our planet. We're hoping pictures will spread across the globe, as Donald Trump is on our TVs, and that we can provide a message of hope in the face of fear.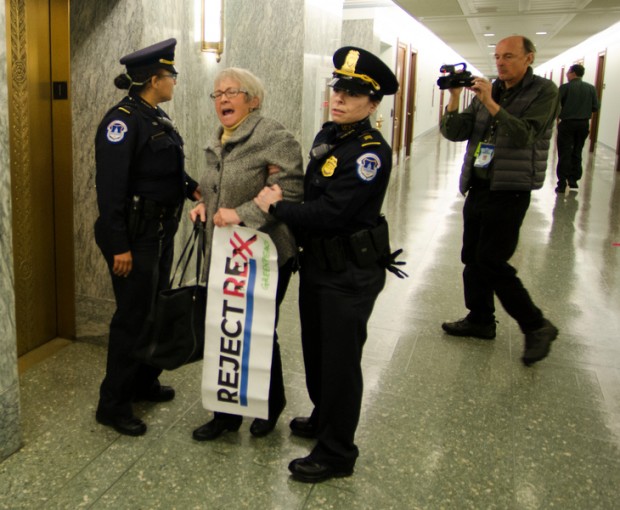 Together we know that people-power can still win. After all, even in 2016, there were victories. People all over the world stood together with the Munduruku Indigenous community to defeat a destructive mega-dam in the heart of the Amazon. President Obama ruled out drilling in the Arctic after years of public protest. Water defenders at Standing Rock inspired a wave of global solidarity and won a huge delay for the Dakota Access Pipeline. People from every walk of life found ways to support refugees fleeing violence and devastation. 2017 is a time to step up our efforts and win even more - in the face of whatever Trump or anyone else throws us at us.
So please click here to find out more about the Bridges Not Walls protests and find your nearest one.