After nearly 2 years and 520,683 people pressuring VW, they've finally agreed to make cleaner and more efficient cars. VW announced that it will meet new EU car efficiency targets for 2020. That means its entire fleet will average 95g/km (about 4 litres/100km) per vehicle by 2020. VW is Europe's biggest car-maker, the seconde biggest in the world, so this is big news. Using less oil means less pollution, less impact on the climate and less pressure on vulnerable places like the Arctic. Here's how you made it happen...
28 June 2011
The Rebellion begins! Stormtroopers invade London to expose VW's dark sides. VW opposes key environmental laws we need if we're going to stop our planet going the way of Alderaan (bye bye). But all is not lost. We feel the good in Volkswagen...
Rebellion ranks swell and only 48 hours into our campaign, 100,000 Jedi from all over the world are standing together against VW's greenwashing. But what do 100,000 Jedi look like?
1 July 2011
Our VW Dark Side film is struck down and pulled from YouTube (and our entire channel blocked). Jedi respond by making it stronger, posting the film all over the internet
7 July 2011
Brian the Stormtrooper goes awol - he's in a difficult place. He feels the good in VW but can't stand by while the Dark Side threatens our planet. So, he has to rebel...
27 July 2011
250,000 Jedi want VW to back strong climate laws. But VW's official response is to act 'surprised' and point to its most efficient cars as proof of its environmental credentials.
28 July 2011
VW - through its US lobbying group, the Alliance of Automobile Manufacturers - runs adverts in the US to lobby against President Obama and his proposal for fuel efficiency standards.
8 September 2011
Climbers scale VW's headquarters in Germany, while giant projections appear on the side of Battersea Power Station, where VW is taking part in a green car show. Two days later, the Rebellion strikes at VW forecourts across Europe in a day of mass action.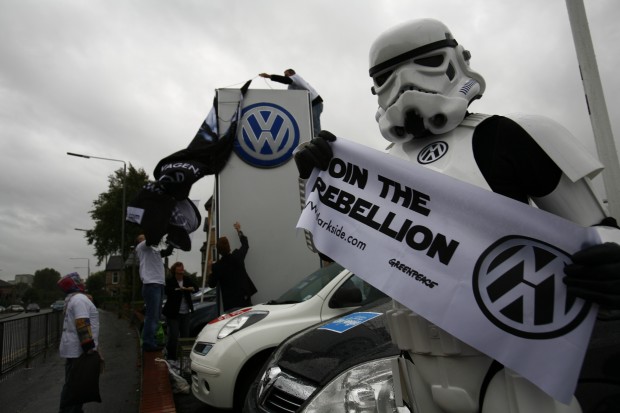 15 September 2011
You'd struggle to make this up. After a giant banner is deployed at the Frankfurt Motor Show, VW employees appear beneath with their own placards in a counter-protest.
17 September 2011
A VW film competition is announced, challenging film makers to produce a spoof VW advert which film makers accept with gusto. The winners, announced in October, are Andreas Borlinghaus and Johannes Laidler.
24 October 2011
VW holds a training course in Ibiza - attending are 12,000 of its salespeople from 50 countries around the world. It was the perfect opportunity to show those working in VW forecourts the truth behind VW's green image.
9 November 2011
Does VW support EU targets for greener cars? A report in the Financial Times suggests it would. So a film crew goes to VW's headquarters in the UK to find out. They even ask why VW hadn't responded to all those emails, offering to send our IT guy round to fix their server...
2 December 2011
A shadowy car lobby meeting is exposed as stormtroopers and Darth Vader greet bosses of Europe's car companies arriving for the hush-hush meeting in Brussels.
4 January 2012
VW begins 2012 on the back foot by asking on its Facebook page what customers would like it to do more of in the coming year. Thousands of comments and messages are posted asking VW to stop lobbying against European climate laws. The Jedi Council forms, a group of ardent people using Facebook to ask VW one simple question: will you support new climate laws to reduce emissions?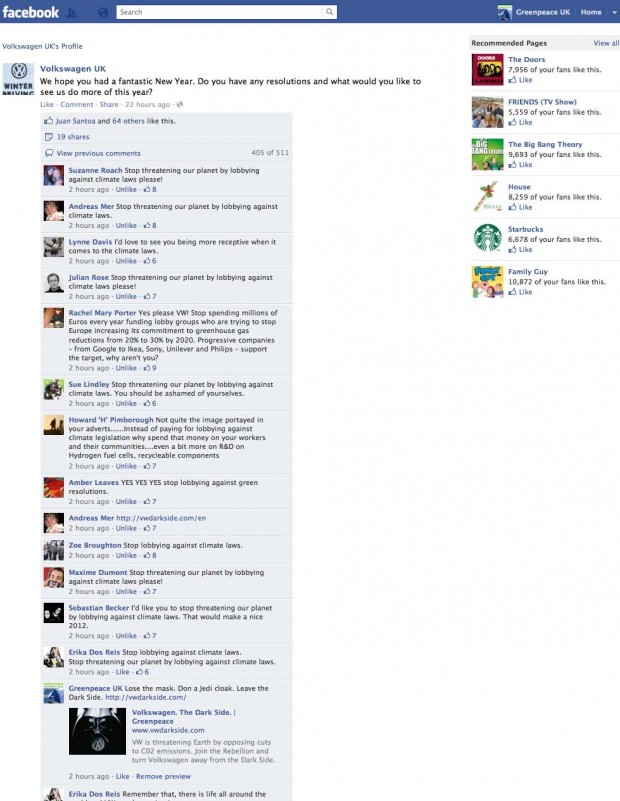 12 January 2012
Dozens of polar bears invade the prestigious Autosalon 2012 in Brussels to protest about the impact that Volkswagen and the rest of the car industry is having on our climate and the Arctic.
27 January 2012
The Jedi ranks swell to 500,000 as the word spreads about VW's Dark Side.
17 April 2012
Greenpeace Germany climbers scaled the giant company logo on top of the roof of VW's factory in Germany to take the message to company bosses: CO2 = Das Problem.
18 April 2012
Activists protest with a burning CO2 sign in front of a convention centre in Hamburg ahead of the Volkswagen shareholders meeting. The next day climbers hang a banner on the convention centre. Meanwhile, inside the meeting activists interrupt CEO Martin Winterkorn's keynote speech.
31 August 2012
On hearing that VW's real Golf 7 was nowhere near as green as the planet needed, the Rebellion have launched a photo petition to finally turn VW away from the Dark Side.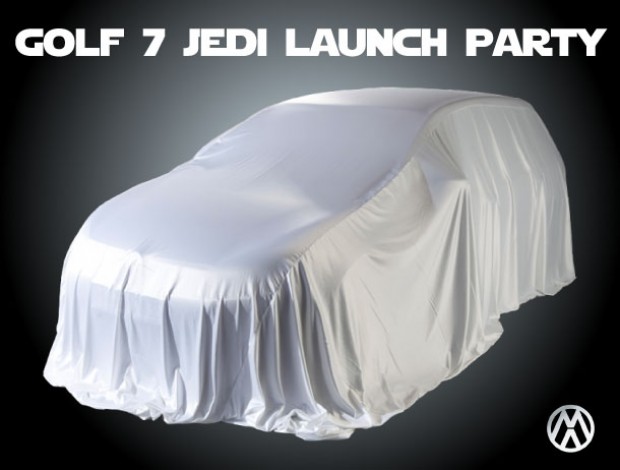 26 September2012
The unveiling of VW's Golf Blue Motion at the Paris Motor Show is disrupted by activists demanding that the company drop its green marketing smokescreen. But the CEO Martin Winterkorn would not come and meet us to receive a message from 520,000 people - wrapped around a VW car! - who wanted VW to clean up its act.