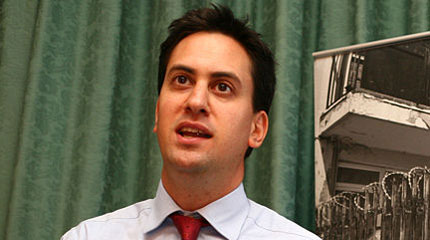 Big news from this morning's Cabinet reshuffle: Gordon Brown has created a new department for climate change and energy, and Ed Miliband has been appointed its head.
This is, potentially, fantastic stuff. Until now, one department has been dealing with climate change and another - the department for business (DBERR) - with energy. This entirely nonsensical division hamstrung any chances of a coherent, low carbon energy policy and kept business and environmental interests at perpetual loggerheads. No prizes for guessing who usually won.
This move, at last, could extract our energy policy from the interests of big business and mean we have hope for real, decisive action on climate change.
I say hope because a lot remains to be seen about the structure of the new department. Will the DBERR civil servants who've spent their careers to date blocking renewables and promoting big energy move over to the new department? Will the department be able to make its presence felt throughout government, keeping the departments for transport, business and international development in line on, say, airport expansion?
And, of course, a lot depends on Miliband himself. He certainly has the potential to bring fresh thinking to the substantial task of fixing the UK's renewables strategy. (Far more than Prince of Darkness Peter Mandelson, who we thought - for a terrible moment - had been given the job of deciding whether to build a new plant at Kingsnorth. His appointment to the Department for Business has spawned brilliant commentary from across the spectrum, by the way. My favourite so far: "Was Darth Vader busy?" from Chicken Yoghurt. Although "this shock return is no surprise to us" from The Federation of Small Businesses has its own unwitting brilliance.)
But the pivotal question for Miliband is coal. Specifically, to build or not to build at Kingsnorth. And, hailing from a former mining constituency, Miliband obviously has an interest in the future of coal.
On the other hand, he genuinely seems to get the need to overhaul the energy system instead of carrying on with business as usual. In 2005, he said: "it is becoming increasingly clear that we cannot leave energy policy simply to the market. Without a proper government framework, the market cannot deliver for the simple reason that market failures do not take adequate account of environmental issues..."
Last month, he told the Labour Party Conference that climate change was the biggest challenge. The Manchester Evening News reported:
"It can't be an add-on any more," he said, but had to be at the heart of all policies - economic, transport and social.
Mr Miliband said he was 'crystal clear' on the direction the party must take. "Giving equal life chances for all. Every family having the time they need with their kids, a dignified old age for all and a country safe from climate change."
So there is hope for the UK's energy system and our ability to tackle climate change – certainly more hope than there's been for a while. But to me, Miliband seems like a man in need of persuasion if he is to end the government's love affair with nuclear and coal and take the bold and decisive steps needed for genuinely low carbon decentralised energy system.
Send a letter to Miliband now, congratulating him on his new appointment and encouraging him to begin a green energy revolution.