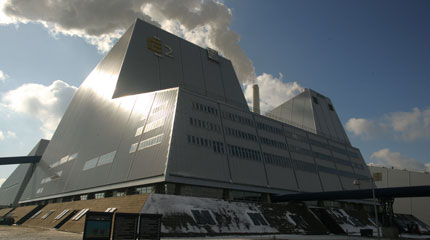 Avedore CHP plant in Denmark
Remember how we said last month that industrial combined heat and power (CHP) plants could save us money, increase our energy security and help slow climate change?
Well, we've just heard that plans are afoot for just such a plant in Scotland. The Tullis Russell paper mill plans to reduce its annual carbon emissions by around 250,000 tonnes a year by switching to biomass CHP for its electricity and steam.
Up until now, the mill has been using coal to provide the steam and electricity it needs, but RWE npower has announced plans to build a 45 MW biomass plant on the site - 45MW being the equivalent of the electricity needed for around 50,000 homes.
(Last month, we commissioned research which showed that industrial CHP plants could generate about enough electricity to meet the annual needs of two thirds of UK households – about 14GW.)
Assuming the biomass for this new plant comes from sustainable sources, it's excellent news for the climate, and a pretty good metaphor for the energy revolution we need across the UK: a transition from fossil fuels to a decentralised energy system founded on CHP, renewables and efficiency.
What's more, the project has enjoyed robust support from the Scottish government. Not only is an £8.1m grant helping to fund the project, but Scottish First Minister Alex Salmond has been waxing lyrical about biomass CHP with an enthusiasm that Gordon Brown seems to reserve for nuclear power and coal:
"The new biomass plant in Markinch... pays testament to our competitive advantage in terms of skills and workforce and the development of energy supplies that are cleaner, greener and economically competitive," he said.
"This announcement points the way to the future and shows the resilience of the Scottish economy in the face of international financial pressure."
Here's hoping Brown learns a thing (or two) from Salmond.