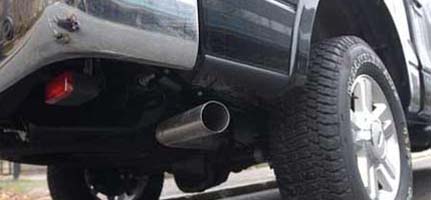 Climate change is already killing 150,000 people a year. If the government takes climate change as seriously as it says it does, Gordon Brown will tax gas-guzzlers off our roads tomorrow when he presents the budget.

Earlier today the Chancellor made a keynote speech describing climate change as an issue of justice and recoginsed that the millennium development goals cannot be met without stabilising the climate. He also declared his ambition to make British business the world leaders in environmental productivity.

Greenpeace Executive Director Stephen Tindale, who attended the speech said: "All this gives grounds for optimism. We just have to hope he really means it. Brown is capable of applying himself and delivering genuine progress. We desperately need him to get stuck in now, starting with the budget."

If he is truly serious about tackling climate change, he must tax gas-guzzlers like 4x4s off our roads. Climate change is the gravest threat we face, yet a car like the new Range Rover Sport does fewer miles to the gallon than the Model T Ford. Most urban 4x4s will tackle nothing steeper than a speed bump, but they spew out three times as much greenhouse gas.

Greenpeace wants Brown to create a new car tax band of £1000 for vehicles that emit more than 250g of CO2 per kilometre. Among the vehicles that would be caught by the new band would be the Land Rover Discovery (397g CO2/km) the Range Rover (389g CO2/km) and the Mercedes M-Class (350g CO2/km). However farmers using 4x4s should be eligible for a rebate.

Tony Blair says "unchecked climate change has the potential to be catastrophic in both human and economic terms." In a private meeting with environmental professionals earlier this year Balir said: "It's a huge issue but time is running out. When I had my last presentation from government scientists on this I was shocked about how the speed of this is gathering."

Time is running out. It is time for the government to take urgent action. In addition to creating a new car tax band for gas-guzzlers, Greenpeace is also demanding the following of the government:

Reduce or abolish Vehicle Excise Duty for clean, efficient vehicles and increase tax on petrol and diesel. These measures would encourage people to drive less and use cleaner cars.

Increase air passenger duty or levy a tax on fuel used in domestic flights, and use the money to help create a reliable and affordable high speed rail network.

Reduce stamp duty on houses that are energy-efficient.

Provide public money to extend the electricity grid offshore so that the enormous potential of marine renewables like offshore wind, wave and tidal power can be realised.