In a recent press statement Shell said they had "zero-point-zero percent to do with the situation in Russia." Here are ten reasons why they are 100% involved in the detention of peaceful protestors.
1. Shell's partner, Gazprom, called in the Russian armed special forces to arrest the Arctic 30
2. Shell is poised to sign a huge deal with Gazprom. Doing business with a peaceful protest crushing company means they are involved.
3. Saying they're "zero-point-zero percent" involved with the Arctic 30 when Shell is Gazprom's partner, is as weak as "we were only following orders".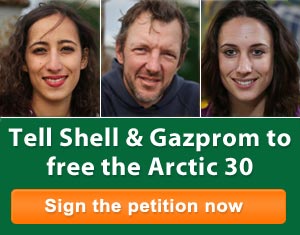 4. Shell plan to drill in the Arctic again. Gazprom silencing peaceful protestors is convenient for them.
5. Shell say they support peaceful protest. If they talk the talk, they should walk the walk.
6. The Arctic 30 were protesting dangerous drilling. In 2012 Shell had the Kulluk rig "screw up".
7. Shell say "we're investing in the future...so people can live the life they want". Does that include peaceful protesters?
8. Shell is the UK's biggest company, operating in an area where six British people have been illegally detained.
9. Shell described their relationship with Gazprom as a "close partnership...built up over recent years".
10. Gazprom said they have "growing joint presence" with Shell.