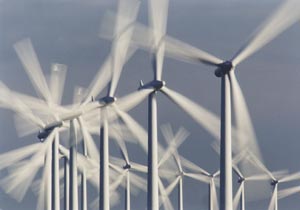 Offshore wind farm, oeresund
Today Greenpeace is taking the unusual step of publishing a leaked copy of a draft summary of a report detailing the future of UK energy policy.

The government is leaving the door open for a wave of dangerous new nuclear power stations across Britain, according to the confidential report, which is part of the government's Energy Review.

Timid targets for the generation of energy by renewable technology - like wind, wave and solar power - are also being set.

We have published a three-part critique:
Renewable technologies are the only option
Timid targets for renewable energy
Leaving the door open for a new nuclear threat

This draft report was originally compiled by the government's Performance and Innovation Unit (PIU). It was presented to the government at the end of December 2001. And Brian Wilson, the pro-nuclear Energy Minister and chair of the Energy Review, stated that it would be published by the end of January 2002.
It has not been published as promised. And Greenpeace is concerned that the government is now delaying it. We believe that the issues in the Energy Review debate should be debated by the public, and not decided by an elite group behind closed doors - particularly when the Energy Minister seems so keen to support the Nuclear Industry.

Nuclear power is immoral, uneconomic and entirely indefensible. Greenpeace believes that the environmental, public health and security risks associated with nuclear power are unacceptable. There remains NO solution to the problem of nuclear waste, and generations to come will face enormous costs managing the nuclear legacy.
The Government will find it hard to push ahead and allow new nuclear power stations to be built, if public opposition is too great.

Contact Patricia Hewitt, DTI Minister, and let her know what you think.