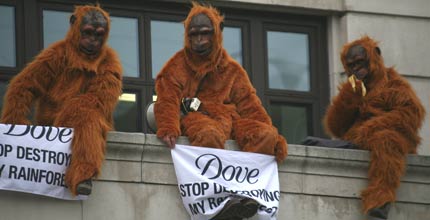 As of 2pm, orang-utans are still gracing Unilever premises in London and Port Sunlight and are showing no signs of swinging down. They've also appeared on the continent, popping up in Italy and the Netherlands. Unilever's Rome HQ has been paid a visit and employees were blocked from entering the building by a large box placed in front of the entrance, with the slogan 'Stop Dove destroying rainforests' emblazoned upon it. In Rotterdam, six volunteers were trying to scale Unilever's waterfront offices to hang a banner with a similar message, but unfortunately strong winds forced them down.
You can see images from London and Merseyside on our Flickr account.
Inclement weather aside, our message seems to be getting through. A little while ago, I spoke to our media officer James at the London site who told me that many Unilever staff seemed unaware of the sheer scale of the problem posed by palm oil, so no doubt our campaign is causing a large amount of debate within the company.
And our executive director was invited to meet with Gavin Neath, senior vice-president of corporate responsibility, where he said they were considering a response to our demands for Unilever to support an immediate moratorium. The company has also released a statement (you can read it on their website) which says they're just as concerned as everyone else is but these things take time. So what Unilever seems to be saying is that the six years the Roundtable on Sustainable Palm Oil (of which Unilever is that chair) has been in existence hasn't been enough time to get their act together and protect Indonesia's rainforests from the expanding demand for palm oil.
If, like us, you think that's just not good enough, write to Unilever and tell them just that.