Diggers are tearing up Indonesia's rainforest - home to endangered tigers, orangutans and sun bears - and Santander is bankrolling the paper company that's leading this destruction.
The greatest threat to Indonesia's rainforests is a pulp and paper company named APRIL. It is chopping down tens of thousands of hectares of forest and feeding rainforest trees into its pulp mill to make cheap paper and packaging.
This destruction is driving APRIL's customers away. But the paper company is being kept afloat by a cabal of banks that have loaned it hundreds of millions of pounds - money that helps APRIL cut down the rainforest.
Santander is at the heart of this cabal - but it's trying to keep its loans a secret.
We've discovered that Santander is financing APRIL, loaning it tens of millions to help the company expand its operations. Santander has even acted as a broker, encouraging other banks to chip in and lend APRIL even more money.
Tell Santander to stop financing extinction.
We asked Santander about its links to APRIL, but the bank didn't want to comment. But it hasn't always been so tight-lipped. Back in 2012, Santander won a 'deal of the year' award for brokering a massive $600 million loan to APRIL.
Santander claims to be a responsible bank. It has all sorts of policies about ethical investment. So why is it ploughing its customers' money into this forest destroyer - and why is it trying to keep the loans a secret?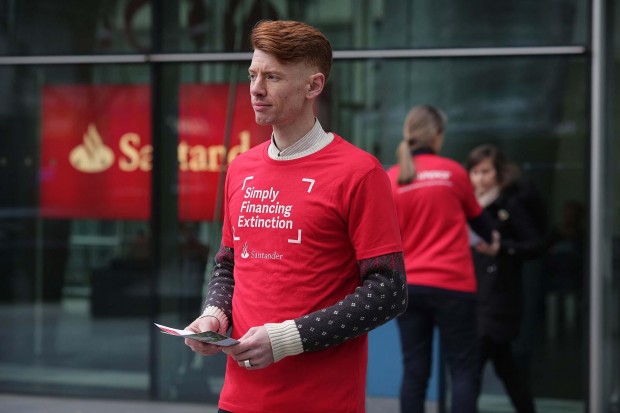 Greenpeace campaigners outside Santander this morning.
Santander spends millions on its branding, and it cares what people think. If we show Santander how outrageous these loans are, we can force it to stop bankrolling companies like APRIL that are chopping down rainforests.
Tell Santander to stop loaning money to APRIL and other forest destroyers.