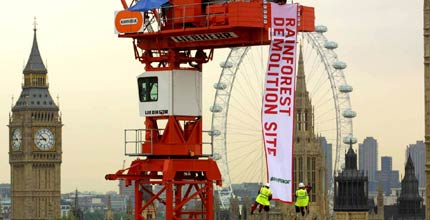 Just one of the many actions we've taken to expose the government's shoddy approach to illegal timber
Over the past few years, we've done plenty of work to highlight the problem of illegally logged timber being imported and sold in the UK - remember the government's repeated foul-ups in this area? It's insane, but we still don't have any laws preventing illegal timber from places like the Amazon and south-east Asia reaching our shores, nor does any other country in Europe.
Support the illegal timber laws

Write to European Commission president José Manuel Barroso asking him to back tough measures on illegal timber

Take action
There may, however, be light at the end of the tunnel. Next month, legislation to combat the sale of illegal timber is expected to be put before the European Commission for consideration. If the members of the commission agree on the proposal put forward by environment commissioner Stavros Dimas, it would then be sent to the European Council and Parliament for their approval.
This could mean that in the next eighteen months only timber products from legal sources would be sold across the EU. As Europe is the largest importer of timber in the world, this could have a big impact in those countries where illegal logging occurs.
But of course there are those with a vested interest in maintaining the status quo. Some logging companies make enormous profits from illegal timber, including the companies behind the Amazon timber shipment we blocked from entering France back in March. Timber and logging companies have already been lobbying the president of the European Commission, José Manuel Barroso, to reject the proposed law.
So we want to remind Mr Barroso of the importance of protecting forests around the world from being pillaged. We're asking our supporters across Europe to write to him, explaining why this legislation is needed to help save not only the forests, but their biodiversity and the climate.
Thousands of people have already contacted Mr Barroso - you can join them by writing to him now and asking him to support the legislation.