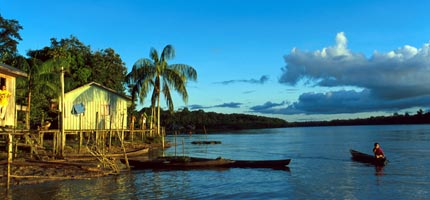 Yesterday, the 'guardian angel' of Brazil's environment, Marina Silva, threw in the towel and quit her post as Brazil's environment minister. She told President Lula that her efforts to protect the Amazon "were being thwarted by powerful business lobbies".
Her frustration must have been immense; protecting the Amazon has been her life's work. Before becoming environment minister, Silva grew up tapping trees for rubber in the Amazon to support her family, before teaching herself to read, putting herself through university and working alongside Chico Mendes to stop deforestation and create sustainable reserves.
Eking out a silver lining, maybe her resignation will be a wake up call; without her, the Brazilian government's green credentials are thin on the ground. Exposed like this, the government may now have to prove it values the Amazon as much as agri-business interests.
Meanwhile, across the Atlantic - in a different hemisphere and from the opposite end of the social spectrum - another voice called for a complete halt to deforestation. In an interview (listen again) on the Today Programme, Prince Charles said "if nothing is done seriously in the next 18 months, we are in severe danger of losing the battle against climate change."
He repeatedly made the point that "halting deforestation would be the easiest and cheapest way of halting climate change" and made an astute observation about ancient rainforests and new carbon sequestration technologies. We already have an amazingly sophisticated carbon storage technology: the world's forests. And we're killing them.
It's 'Amazon Day' at BBC World today, so keep your eyes and ears peeled for more.