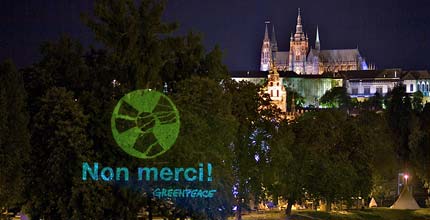 A projection near Prague Castle says 'Non merci' to nuclear power © Horejsi/Greenpeace
Prague, that wonderful city admired by horror film makers and stag parties alike, is currently hosting the European Nuclear Energy Forum (ENEF), a gathering of those involved in shaping nuclear policy across the EU. One of the hot topics at this meeting is safety standards within the nuclear industry and a very scary proposal has been floated to lower standards in many member states.
The pitch is to lower the minimum levels of safety to the lowest level applied by any member state. Current safety levels differ across the EU and this proposal would standardise them but only to the lowest common denominator - any countries wishing to impose higher standards on the nuclear industry could run into trouble with the EU.
But why on Earth would anyone want to lower nuclear safety standards? As we know, budgets in the nuclear industry have a mysterious life of their own - only yesterday, the French media (read the story in French) reported that the troubled new installation at Olkiluoto in Finland has run into yet more, er, trouble. Originally costed at 3 billion euros, final estimates have now spiralled to 5.2 billion and with construction not due to finish until 2011 (a date which is already later than planned and might slip further), there's every chance that figure might itself be optimistic.
So the whole exercise is a sneaky way of artificially lowering costs for governments and companies keen to build new reactors - skimping on safety standards will allow them to reduce the budgets, and make it seem like the nuclear industry is commercially viable and doesn't need any subsidies from taxpayers.
Meanwhile, French company Areva has been promoting its European Pressurised Reactor (EPR) which they claim is safer and cheaper than older nuclear technologies. Areva is heavily involved in the new Finnish reactor (an EPR one) where inspectors have discovered numerous construction and planning flaws, a result of the company's efforts to cut costs. Similar problems have been reported from the construction site of an EPR reactor in France, so forum delegates received a cheeky 'survival kit' from our campaigners outlining these problems and suggesting the acquisition of a time machine for those foolish enough to get involved with EPR technology.
For the most part, all this gerry-mandering is happening away from public scrutiny. The ENEF was set up last year "to organise a broad discussion among all the relevant stakeholders on the opportunities and risks of nuclear energy" and develop proposals to feed in to EU policy and potentially legislation. There's certainly a healthy selection of government ministers and energy company executives, but very few representatives who might have different views on the subject. Only Greenpeace and Friends of the Earth are lucky enough to be there to challenge this nuclear cabal and as a result, the ENEF has focused on promoting nuclear power rather than generating a balanced debate.
But there we are, and last night we projected messages such as 'Nuclear undermines climate protection' and 'Energy [r]evolution now!' against the backdrop of Prague Castle (see the picture above) so forum attendees can't fail to be aware of our opinions.