As thousands of Greenpeace supporters have piled the pressure on Coca-Cola, the mega brand is starting to take notice - but Coke's answers aren't yet good enough.
When we launched our report showing how Coke is failing to take responsibility for the damage its plastic bottles are causing in the ocean, the company said it was "disappointed" by our findings. What's really disappointing is that in the past decade, Coca-Cola has actually increased the proportion of single-use plastic bottles across its global packaging mix. But when we delivered a 2.5 ton monument to ocean plastic pollution to Coca-Cola's London HQ, a spokesperson simply stuck to the line that they were "disappointed".
Since April, over 88,000 of you have written to Coke's CEO in Europe, calling on the world's largest soft drinks company to ditch throwaway plastic to protect our oceans from plastic pollution. Hundreds of you called Coca-Cola's switchboard in a single afternoon, and have been sharing spoof videos and gifs on social media showing the devastating impact Coke's single-use plastic bottles are having on marine wildlife.

This kind of pressure is impossible for a company to ignore - even one as large as Coca-Cola. Many of you have shown us the much longer replies you're now receiving from Coca-Cola, on social media and through emails or letters.

But getting a response isn't the same as the right response. Coca-Cola still aren't facing up to the scale of the problem, or their ability to help end the flow of plastic into the ocean. Just take a look at their common lines - and our comebacks: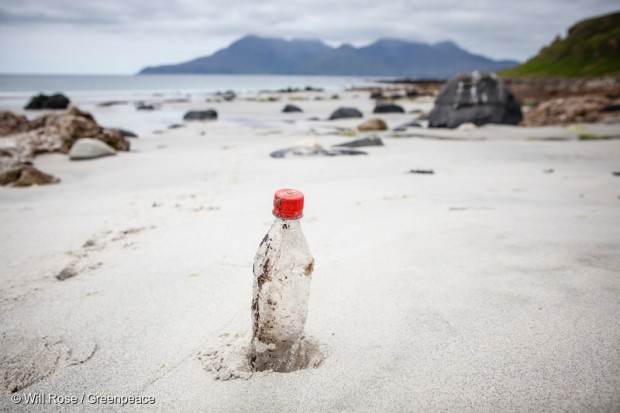 Coke say: Why us? We've made statements caring about the planet
We say: Given the size of Coca-Cola's plastic footprint, producing over 100 billion single-use plastic bottles every year, it's clear that Coca-Cola has a particular responsibility for the plastic crisis facing our oceans. Billions of these bottles are ending up on our beaches, in landfill or in the ocean. We've even found Coke bottles on some of Scotland's most remote beaches as part of our Beluga ship expedition.

If Coca-Cola was to commit to ditch throwaway plastic bottles, and instead embrace reusable packaging and 100% recycled content, this would make a huge difference to the amount of plastic bottles ending up in our oceans. Coca-Cola also has the means and influence to shift the soft drinks sector and companies in Coke's supply chain away from single-use plastic - that's what real leadership on this issue looks like.

Coke say: All of our bottles are 100% recyclable
We say: Plastic drinks bottles made from a type of plastic called 'PET' are 100% recyclable, so it's no great achievement by Coca-Cola. Several of their major competitors also make 100% recyclable bottles. But crucially, 100% recyclable bottles means they can be recycled after use – not that they are. In fact, just under half the plastic bottles we use every day in the UK aren't being recycled. That means 16 million plastic bottles every day are being dumped in our environment rather than being recycled in Britain alone.

Coca-Cola can do something about this. Used Coke bottles should be re-used as new bottles - rather than ending up in our oceans. Coke has plenty of room to increase the amount of recycled plastic it uses to make its bottles - right now, Coca-Cola averages a pitiful 7% recycled content globally in its plastic bottles. Worse still, the company now has no further global targets to boost this across their entire product range (Coca-Cola's 2020 target is limited to Europe) - let alone a clear timeline for achieving 100% recycled content in Coke bottles.

Coke say: we've reduced our plastic use by making lighter, thinner bottles
We say: This 'lightweighting' process does reduce Coke's costs, plastic use and carbon emissions. But lightweighting does not prevent Coca-Cola's plastic bottles from entering the ocean, breaking down and continuing to threaten marine life. Lightweighting is also happening in the context of the rapid expansion of plastic bottle production - which is set to keep on growing. To truly combat marine plastic pollution, Coca-Cola must innovate beyond single-use plastic bottles. Reusable bottles are also the least carbon-intensive bottles, releasing fewer emissions than a lighter single-use bottle. Lightweighting can't hide the fact that Coca-Cola has no commitment, target or timeline to reduce the number of single-use plastic bottles it manufactures.