John West's claims that its customers can see "exactly where their fish was caught" is deeply misleading - according to a crowdsourced Greenpeace investigation.
The investigation found tuna cans with "100% traceable" label can't be traced as John West claims and that the company has been failing to publicise the fact that some of its tuna comes from Thailand- a country notorious for human rights abuses in the fishing industry.
The tuna giant recently claimed that its "can tracker software means every consumer can see exactly where their fish was caught by tracing it back to the vessel."
The company says hundreds of thousands of customers have used the tracker tool, but until this morning the software - like the rest of the information John West provides to customers about tuna - only mentioned three countries: the Seychelles, Ghana and Portugal.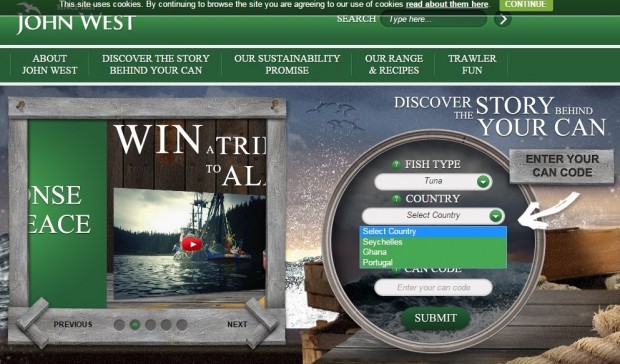 Now, following questions from Greenpeace and journalists, John West has added two more countries to the tracker tool: Thailand and Papua New Guinea- but instead of being given details of the supply chain, customers are asked to email the company for details.
The changes come as an investigation by Greenpeace UK revealed thousands of John West tuna products on UK shelves come directly from factories in Thailand. Those products cannot be tracked using John West's tracker tool, even though some of the packaging proudly boasts of being "100% traceable".
The new findings add to questions about the company's transparency, following information released last week by Greenpeace which revealed the company had broken its sustainability promise to consumers.
The "story behind the can"
For years John West has been promoting a tool on its website that encourages customers to "Discover the story behind your can" by entering codes printed on its products.
Just days ago the company released a statement saying: "As the world leaders in traceability, we encourage our consumers to monitor us; our unique 'can tracker' allows every consumer to see exactly where their fish was caught by tracing it back to the vessel."
However, until this morning for those that select "tuna" on the online tracker, only three country options were available: the Seychelles, Ghana and Portugal.
Elsewhere, on the website the company notes it also sources products from other countries and that four years after launching the can tracker it is still adding products to it, but Thailand is never mentioned.In fact, the only mention of Thailand on the website was in a recipe for Thai salmon fish cakes.
The findings come after Greenpeace UK sent a network of volunteers out around the country to report back on the can codes of the John West products in their local stores.
Several varieties of products noted, in small print, that the product came from Thailand, and listed a code.
We then cross-referenced the codes with specialised registers of international tracing codes to identify exactly where in the country the products were coming from.
The results were staggering. Over 2,400 different cans and packets were found with codes linking them to three different canneries in Thailand, all run by John West's owners Thai Union, which bought the UK company in 2010 for £566m.
In September we phoned John West posing as a customer, and asked why we couldn't use the can tracker for the products we'd found. We were told someone would investigate and get back to us, but no reply ever came.
All three canneries were in the Samut Sakhon region of the country, an area known for both the use of unsustainable tuna purse seiners and human rights abuses.
Thai Union has previously told the New York Times: "We will not tolerate any human trafficking or any human rights violation of any kind", though it chose not to answer questions about audits on ships that supply to the company.
Elsewhere Thai Union CEO Khun Thiraphong Chansiri has said: ""we all have to admit that it is difficult to ensure the Thai seafood industry's supply chain is 100% clean."
Thai for dinner?
We found that cans of John West tuna with mayonnaise and sweetcorn, tuna slices in olive oil and plastic pouches of "Tuna with a twist"- of fish mixed with flavourings- all came with codes linking them to Thailand.
The products were found in 72 different supermarkets around the country, including branches of Tesco, Sainsbury's, Asda and Morrisons.
The Samut Sakon area of Thailand, where the three canneries which supply products to John West's UK market are located, has been linked to forced and bonded labour recently.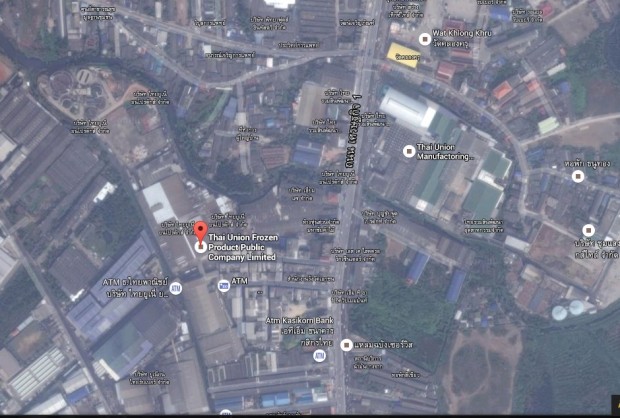 Earlier this year an investigation from the New York Times found a fishermen forced to work against his will for ships which supplied goods to a cannery in another region called the Songkla Canning Public Company- a subsidiary of Thai Union.
In another investigation the Associated Press followed a shipment of fish, species unknown, from a ship that used slave labour to Niwat Co., which sells to Thai Union.
Thailand is currently on a yellow card from the EU for things like illegal fishing, but a judgement is set for later this year: where it is possible Thailand will receive a red card which would mean a total ban on EU trade.
Greenpeace is now calling on Thai Union to prove that its supply chain is free of human rights abuses and to use its position to drive out exploitative practices from the tuna industry.
John West told The Times that it was "amending the website copy to encourage anyone with a can of Thai tuna to email us; we will then be able to provide full traceability details in a response email". A spokeswoman said that all its tuna was "fully traceable" and the problem was "simply a website limitation". However, the company failed to respond to further questions, including how long it had known about the false claim on Thai cans.
John West came last in our tuna league table, which was released last week.