Today I saw a tonne of tuna. Literally. I witnessed every tuna landed on a pole and line fishing trip in the Maldives. It was a relatively slow day, 1.3 tonnes of tuna to be precise. A good day starts around 5 tonnes, but conditions were rough out there. And competition was stiff from the other pole and line boats, known as dhonis, fishing near us.
But it didn't feel so slow when the tuna were flying backwards through the air, flicked onto the deck by fishermen standing at the rear of the dhoni. One flew right past my nose, 8kg of silvery quivering muscle flashing by. The skill, strength and teamwork of the crew on a long fishing day is quite a sight. Pole and line fishing has been in their blood for generations.
Talking to Maldivian fishermen and scientists I've heard about the impact of foreign fleets around Maldivian waters, stripping tuna and large volumes of bycatch out of these waters. The Maldives does not permit foreign vessels to fish within 200 nautical miles of its coastline, but indiscriminate industrial fishing, even at this distance, can impact local catches. So I was curious to see pole and line fishing first hand.
The crew's day begins around midnight when they leave to fish for livebait. Once caught, these tiny, short-lived baitfish are kept in a bait well on the dhoni. Small amounts of baitfish are regularly scooped up and tossed overboard to mix with sprays agitating the water, creating the illusion of a larger amount of bait to provoke a tuna feeding frenzy. 1 kg of baitfish can deliver 10kg of tuna. The fishermen stand shoulder to shoulder on the rear deck bobbing long poles with barbless hooks into the spray, enticing the tuna to bite. As a tuna comes onto the line a skillful fisherman will use the momentum to lift the fish out of the water, arcing it overhead to land on the deck behind him while he flicks his line back out into the water, all in one smooth movement. Gradually the hold fills with tuna, and the bait well thins out.
Maldivian pole and line fishing is special for several reasons: the one by one catch method has minimal bycatch; it supports small communities; and much of it ends up on UK shelves: Sainsbury's, M&S, Waitrose, Reel Fish and Fish 4 Ever.
Maldivians have a particularly intimate relationship with the ocean. Their geography – numerous, tiny islands in coral atolls - means they understand how to live and work in balance with the oceans (although sea-level rise due to climate change is creating serious challenges for this low-lying state). Maldivian fishermen know that a failure to work with the oceans will mean a failure to sustain your family and community.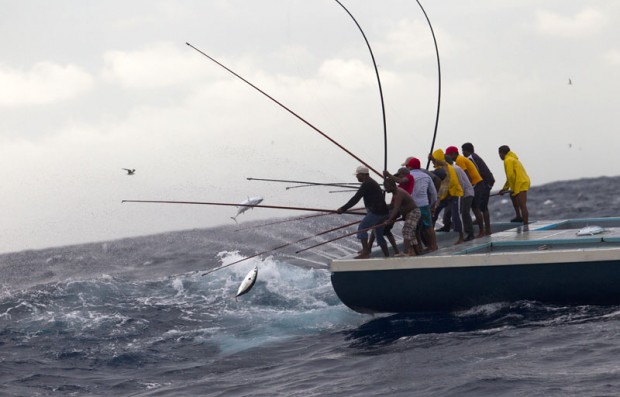 Back to the dhoni. The tuna was offloaded by early afternoon, but the crew kept some of the catch for their families, deftly preparing the fish on the deck as we headed home to be greeted by villagers, some football-mad schoolboys curious about the new crew members from Greenpeace, and a truck to take the rest of the tuna away for islanders. The fishermen went home to rest before their next midnight start.
So this is how your tin of pole and line tuna begins. And what else is caught with it? Just tuna. No sharks, rays, pilot whales, whale sharks, turtles, dolphins, seabirds or any other marine life that form the billion tins of bycatch caught annually just by purse seine fleets using FADs (Fish Aggregation Devices), or by destructive longliners.
But pole and line fishing alone cannot fully meet global demand for tuna. That's why Greenpeace has also gained commitments from UK tuna brands and supermarkets to fish without FADs, cutting bycatch by around 90%. Many brands and retailers are already doing this, and all major players have committed to dump FADs by the end of 2016.
Change is taking place in the tuna industry, and these islands are working hard to ride the waves of change. Next week, as we near the end of our Indian Ocean ship tour onboard the Rainbow Warrior, Greenpeace will host a workshop in the Maldives focusing on how Indian Ocean states can gain from being at the leading edge of sustainable fishing.