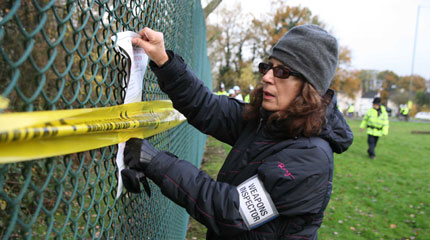 © Greenpeace
Hundreds of citizen weapons inspectors have just spent this morning patrolling through the muddy fields of England. They came from all over the UK, converging on the Atomic Weapons Establishment (AWE) facility at Aldermaston. They arrived from all directions, by bus, train, bicycle and on foot.
Their mission? To carry out the world's largest ever inspection of a nuclear weapons factory, following reports that Tony Blair is building a new nuclear weapon.
At Aldermaston, the weapons inspectors were greeted by hundreds of police officers, who "corralled" many of them away from the site. There's plenty of evidence to suggest that some 1 billion pounds worth of new nuclear weapons facilities are being built here, most likely in contravention of the Nuclear Non-Proliferation Treaty. The building work going on at Aldermaston includes the giant new 'Orion' laser, for use in simulating nuclear tests. Hundreds of new nuclear weapons scientists are also being recruited. Stay tuned for tonight, when Hans Blix will slate Tony Blair in public for trying to replace Trident - the current nuclear weapons system.
During the course of the morning, the weapons inspectors - organised by both Greenpeace and Block the Builders, managed to reach the fence at Aldermaston, to take photographs of the building site, despite laws banning photography at the facility. They even drew pictures - which is also illegal! The inspectors include Bodyshop founder Anita Roddick and Norman Baker MP.
Cartoonist Steve Bell on Blair and the Trident replacement (The Guardian, 24th November 2006)
Tell your MP to stop the new nuclear bomb »
Greenpeace Moblog photos and video »
Legal opinion released this week by Philippe Sands QC »
Recent report on weapons developments at Aldermaston »
Block the Builders »
Wikipeda: Atomic Weapons Establishment »
Wikipeda: Nuclear Non-Proliferation Treaty »
The Atomic Weapons Establishment HQ at Aldermaston - click the symbols to find out about new developments on the site
(Information courtesy of Scottish Campaign for Nuclear Disarmament)
View the latest mobile images from Aldermaston on our moblog

Anita Roddick explains why she's at Aldermaston
Nuclear Weapons Inspectors stopped by police at Aldermaston
Megaphone conversation - weapons inspectors at Aldermaston