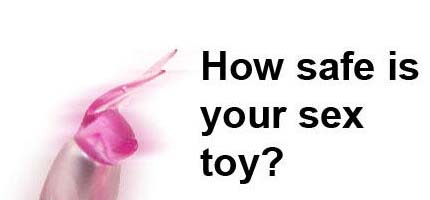 Is nothing sacred? A new report released today by our Dutch office reveals that the plastics used to construct a wide range of sex toys contain very high concentrations of hazardous phlalates, toxic chemical softeners used in PVC to make it soft and flexible.
Greenpeace Netherlands asked research organization TNO to test eight different sex toys, including dildos and vibrators, for phthalates. Worryingly, seven out of eight contained phthalates in concentrations varying from 24 to 51 percent. Remember, these are chemicals which do not easily biodegrade and can be dangerous - even in small amounts.

The research was commissioned after Durex's 2005 Global Sex Survey revealed that three million Dutch people admit to owning a sex toy. Over a million are sold there every year, making the market worth 22 million Euros.

Greenpeace has been opposing the use of phthalates for over three years, after research into children's toys and teething rings showed that the chemicals could be ingested through direct exposure to sensitive tissue, such as that found inside the mouth. In 2005 the EU banned the use of the phthalate DEHP in children's toys because of its damaging effect on young children, forcing toy manufacturers to develop alternatives. It is shocking to find them still used in sex toys, also made for internal use.

According to Toxic campaigner Bart van Opzeeland 'It's incredible that this substance can still be used in toys for adults. The last few years we've tested a lot of products but never before did we find such high concentrations.'

Unfortunately, phthalates can still be widely found in products ranging from cosmetics to floor coverings, and are known to leach out into the environment (or into your body, in the case of sex toys) over time.
The latest research indicates that exposure to these substances can upset the body's ability to regulate hormone production, damage reproduction, and cause cause liver and kidney defects. They can also possibly cause cancer.

So what's the solution?
'Legislation is obviously insufficient in this matter', says Van Opzeeland. 'It's time for legislation that bans this kind of hazardous substance. That is the only way to stop pollution.' The truth is that safe alternatives for many hazardous substances are already available. It is perfectly reasonable to demand a law which ensures that:
substances should be put on the market only once their safety has been proven.
Information on all chemicals and products should be publicly available.
Greenpeace continues to demand that the EU adopts the REACH proposals for a strict chemicals law. If adopted, REACH would ban the production and use of toxic substances, forcing industry to use non-hazardous alternatives.