Yesterday we witnessed two tug boats towing a big iceberg near the Stena Forth drilling ship. They do this to move them out of the way of their drilling operation. They call it "ice management". We call it "insanity". Last night we realised we had a chance to project messages onto this iceberg so we asked people on Twitter and Facebook to suggest new slogans for Cairn Energy. Within two hours we had 500 suggestions and picked two to go alongside the Cairn logo on the iceberg. "We just don't care" suggested by Frank Plonka on Facebook and "Defining Stupid" suggested by Matthew Higginson.
We then had one hour to prepare the slides for our projector on board and Anais kindly put together the logo and new slogans so I could print them out on transparent sheets. Leila and Jon, our climate campaigners, set up the projector on deck and we did our best to get the slogans onto the iceberg for Will, our photographer. But sadly the weather conditions got the better of us -- so much fog and rain.
Our captain navigated the ship into a perfect position for us - several times amid lots of small icebergs in the water. Jon and I took turns to hold an umbrella over the projector and Leila fought to get the slides in the right place while Will did his best to take the pictures. But the fog simply wouldn't let our projection reach the big berg. So we did some onto the fog itself - next to the iceberg and only managed to get one of the new slogans to show up (ish!). We're a little disappointed with the end result. But we're proud of the fact that we gave it our best shot in challenging conditions and we'll try it again if we get better weather.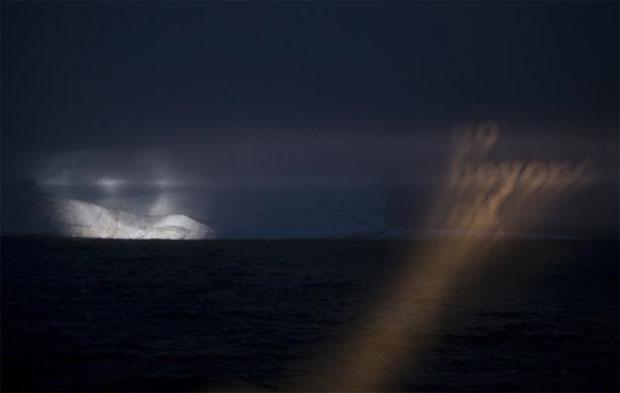 We couldn't believe that so many people suggested hundreds of slogans in such a short space of time! Cairn's original slogan is "Discovering Hidden Value". Here's some more truthful alternatives suggested by supporters. If we could beam all of these onto an iceberg here - we would.
Ruining Nature's Value - by Joan Stricker
Discovering Hidden Madness - by Breandan McGreary
Discovering inevitable disasters - by Asia Szkudlarek
Destroying obvious beauty - by Keirsten Edwards
I just Cairn't get enough - by Constantin Kawhol
Devaluing our future - by Claire Frost
Thanks for all of your suggestions! It was inspiring to see them all last night.
You can still make sure your message gets to Bill Gammell the CEO of Cairn Energy by sending him a letter today.