Every year, it's the same. Despite evidence and advice from marine biologists that really there aren't plenty more fish in the sea, European fishing quotas are set way above what's required to halt and reverse the downward spiral of many commercial species. As Willie pointed out this time two years ago, it's a pantomime farce which comes along like clockwork in the week before Christmas. But that may be about to change.
Fisheries ministers are meeting right now in Brussels to decide on the fishing quotas for 2011, and what's the betting that it will be another barely-veiled gift to the rapacious demands of the fishing industry? If anyone tries to convince you it's about preserving jobs, don't believe a word of it – employment in the fishing industry has actually gone down. Meanwhile, the size of the vessels and the scale of the catch have ballooned in parallel, the former facilitating the latter.
So it was outside the venue where this year's pantomime was happening that, earlier this morning, another performance took place. No pie-bald cloth horses or dodgy cross-dressers were involved, but a replica of a fishing trawler was erected beside the EU Council offices in Brussels. It wasn't long before it was summarily decommissioned by our volunteers, demonstrating what needs to happen with much of the EU's bloated fishing capacity.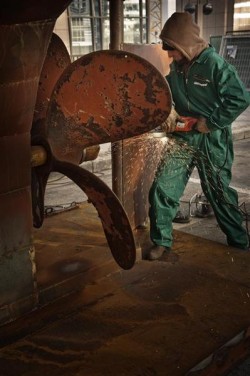 It's unlikely that the script for the 2011 quota will be significantly different from previous efforts, but there is an opportunity on the horizon which offers the tantalising possibility that a rewrite may soon be possible.
The engine which drives the subsidies and vastly over-muscled fishing fleet – the Common Fisheries Policy (stay awake at the back) - is up for renegotiation in the coming months and there'll be a lot of pressure from the industry to keep things as they are. Those of us who are minded to put sustainability and long-term prosperity for fishing communities before short-term profits for industrial fisheries, will be attempting to shift it the other way, promoting above all a reduction in fishing capacity so that stocks can recover.
Expect to hear much more on this very soon. TV chef and food campaigner Hugh Fearnley-Whittingstall has already launched a campaign to see the CFP changed out of all recognition, ahead of the Hugh's Fish Fight series coming to Channel 4 in January. And the CFP figures highly in our plans for 2011 – how to make EU bureaucracy sexy is never easy, but we're going to give it a shot.
In the meantime, as the fisheries ministers leave the quotas meeting and walk past the deconstructed trawler effigy, I'm hoping it's a taste of things to come.