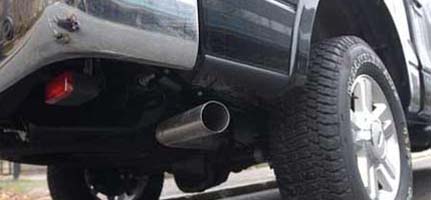 Car manufacturers are trying to sabotage a new European climate law that would force them to improve the efficiency of their new vehicles. But there's time to act to make sure that Europe's cars are cleaner and greener in future.
Last week in Brussels, a behind the scenes tussle was raging that had implications for the future of our planet. The European Environment Commissioner had intended to announce new measures that would force car manufacturers to produce more efficient cars.
European cars, he proposed, would have to reduce the average emissions of their new cars 120g of carbon dioxide per kilometre by 2012. It was a simple and attainable measure that would have an immediate impact on reducing Europe's spiralling greenhouse gas emissions.
The proposal wasn't controversial. 11 years ago, trying to wriggle out of this kind of legally-binding legislation, European car manufacturers volunteered to reduce their emissions - as long as the targets weren't legally binding. But the trend towards building bigger and brasher cars has continued and, with one or two exceptions (like Renault and Fiat), the industry is abysmally failing to meet its own targets. "The situation is not satisfactory," said the Commission.
The European Commission has always said that failure on this voluntary agreement would likely lead to binding legislation, and the move is generally supported by national governments.
However, behind the scenes, the German automotive industry (one of the worst performers) seems to have engaged in some heavy lobbying. The EU Industry Commissioner announced that there would be no binding standards. The Environment and Industry Commissioners seemed to reach an impasse, with one apparently intent on serving the planet, and the other on serving the car industry.
The Commission President, Jose Manuel Barroso, decided to postpone the decision, which is likely to come back to the negotiation tables in a couple of weeks. There are now serious concerns that, instead of being forced to act more responsibly in the face of rising global temperatures, the car industry might be allowed to carry on with business as usual.
This move reveals a dangerous divide in the Commission, which only two weeks ago warned that climate change threatens Europe and demands urgent action. It also threatens Europe's ability to fight climate change. Transport is the fastest growing source of emissions in Europe. In the UK, road transport contributes over 80 per cent of the sector's total climate changing emissions.
"Now is the time to stand up for simple sensible measures that would make an immediate difference," says Greenpeace climate campaigner Emily Armistead. "Commission President Barroso should ignore the pleas of the motor industry and support clear and binding targets for new cars."