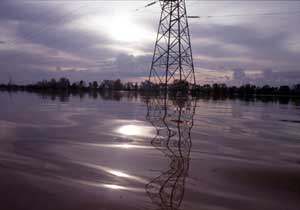 Climate change: English country floods
Flash floods have killed at least 150 people in Pakistan in the last 48 hours. The floods have buried homes built of corrugated iron and wood, sent mountains of mud crashing into villages and turned dried canals into roaring rivers.

Torrential rains that began before dawn on Monday wreaked havoc in Pakistan's mountainous north-west, where rivers of mud slammed into villages burying homes and killing more than 120 people. Many more people are still missing and authorities fear they are buried beneath the mud.

In the worst-hit village of old Dadar, 160 miles north west of Islamabad, 64 bodies were recovered from mudslides that wiped out scores of homes, said police. Nearby hospitals were overwhelmed with the wounded.

"It was pitch black. We were asleep. We heard a loud noise, maybe two or three times and after that we don't know what happened,"
said Mohammed Hashim, a resident of Dadar.

"I remember suddenly being surrounded by water. We broke a wall to escape. There was water everywhere."

Pakistan's military government has sent thousands of trucks packed with soldiers to the most damaged areas. Elsewhere in Pakistan's northwest, there have been reports of more landslides. One village lost 30 residents, another 10 and another eight and yet another three victims. The authorities, however, feared the death toll would rise as reports from some of the remotest areas of the country came in.

Relentless rain also inundated the capital Islamabad and nearby Rawalpindi causing small canals to turn into raging torrents burying some of the poorest construction and killing 31 people. Since Monday, 25 inches of rain have fallen in the capital - the most rain in a single day in the last 100 years of record keeping.