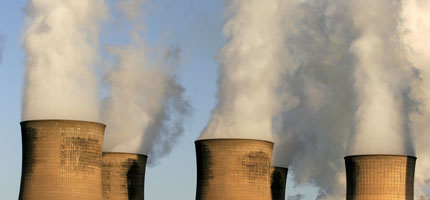 Wasting energy - power station cooling towers are grossly inefficient
George Bush has famously expressed doubts that climate change is even happening. But a report commissioned by the Pentagon that predicts international insecurity and conflict because of global warning may be too difficult for even the US President to ignore - considering national security is his priority.

The leaked report predicts wars will erupt over scarce resources, and millions of people will die in these conflicts or from famine.

The report ("An Abrupt Climate Change Scenario and Its Implications for United States National Security") focuses on the next 20 years.

It examines some of the worst case scenarios resulting from climate change, and outlines a grim future caused by freezing European temperatures, rising sea levels, food shortages and floods.
Meanwhile, top US scientists have written to Bush over their concerns at the Administration's mis-use of science.

"You've got a President who thinks global warming is a hoax. He's ignoring his own scientists and across the Potomac river the Pentagon is preparing for climate wars. It's pretty scary when Bush starts ignoring the advice of all of his experts, and listens instead to his special interest: the oil lobby." says Greenpeace campaigner Rob Gueterbock.

"The White House cannot be allowed to block emergency action on climate change. The UK and other governments now have no choice but to employ all economic and political means to force Bush to change tack."
Find out more:
Read the full report on www.stopesso.com the report