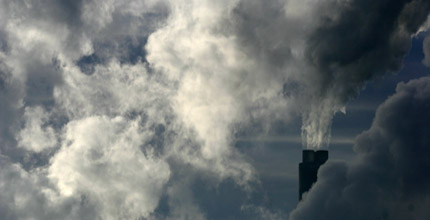 A year late - the government announced the results of their review of climate change initiatives today and told us what we already knew. They are not going to meet their targets. But instead of taking this opportunity to put in place measures that would really make a difference to reduce climate damaging emissions, they've lowered their expectations.
Since Labour came to power, Tony Blair has repeatedly said that climate change is the most important issue facing the planet. Yet since 1997 CO2 emissions have actually gone up. And today's announcement shows that the political will to act on climate change is still as far away as it has ever been. The government is not on track to meet their CO2 emission reduction target because it has done little to address the problem.
At a time when bold leadership is desperately needed to avert catastrophe, the most innovative suggestion the review makes is encouraging individuals to cut their personal emissions.
We must all work together to stop climate change, but the failure of government departments to agree a clear plan of action has resulted in a review that is nothing more than an abdication of responsibility.
The review fails to address emissions from air and road transport, does not present a vision for sustainable building design or renewable energy, and contains no plans to tighten regulation on business.
Instead this uninspired review stands to reinforce Tony Blair's pro-nuclear power position because it does not put forward any new measures to solve the problem.
What should the government do?
Air travel
The review doesn't contain any measures to halt airport expansion and increase air passenger duty. Aviation must be included in EU Emissions trading scheme at the earliest possible opportunity.
Road transport
The fuel tax escalator must be unfrozen and effective road tax bands introduced that actually incentivise people to use more efficient vehicles. The government should also legislate for best efficiency standards in each vehicle class to become mandatory.
Energy and buildings
The review should have ensured the tightening of building regulations to make all new buildings to zero emission standards by 2010 and provide tax incentives for the installation of micro-renewables in new and existing buildings.
Renewable energy
The review should have considered policy mechanisms that are capable of delivering where the Renewables Obligation has failed including measures to incentivise all renewable technologies. The cost of the grid connection for key industries such as offshore wind should also be reviewed and support provided to kick start its development.
EU emissions trading scheme
The review should have created market certainty by tightening the national allocation of carbon credits - the amount of CO2 British industry is allowed to emit year on year. Instead Tony Blair is seeking to increase the amount of C02 emissions British industry can emit.
More about the real solution to climate change:
The energy revolution - Generating energy near to its point of use and using heat as well as power is cheaper, more secure and cleaner than nuclear power - and it's already working in several countries today.
Ken's low carbon London - It's the capital of the UK, the biggest energy demand centre in the country and the largest city in Europe. And it can slash its CO2 emissions, gas consumption and reliance on fossil fuels without nuclear power.
Find out how decentralised energy could work for the UK as a whole.
Watch the energy revolution slideshow to see decentralised energy in action.