Manchester was at the heart of the industrial revolution. Now it could take the lead in the next energy revolution. While national energy policy flounders, towns and local authorities can do an enormous amount to achieve the emissions reductions we so urgently need.
So, as part of a series of nationwide events, we're hosting an evening of discussion (and the regional launch of our film, The Convenient Solution) at Manchester City FC – soon to be the first UK sports stadium to be powered by its own 85m wind turbine.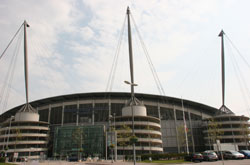 The invitation is open to businesses, local authorities and people interested to carbon emissions and influence national energy policy. It should be especially interesting to local authorities, who can achieve lasting cuts through their influence over local planning, housing and energy. Businesses too have a role to play; in Manchester, they're at the forefront of developing decentralised energy (see the examples of Manchester's Royal Brewery and Manchester City Football Club).
We're putting on the event together with Ecotricity, Manchester City Council and Manchester City Football Club. If you'd like to come please email Darren Shirley.

Chair: David Chaytor, MP for Bury North
Speakers: Alistair Mackintosh, Chief Executive, Manchester City FC
Rebecca Willis, Vice-Chair, Sustainable Development Commission
Gary Freedman, Head of Business, Ecotricity
Cllr Neil Swannick, Executive Member for the Environment, Manchester City Council
Dr Doug Parr, Chief Scientist, Greenpeace

When: 27 September 2007, from 6.30pm.
Where: Manchester City Football Club, City of Manchester Stadium, SportCity, Manchester M11 3FF
View Larger Map