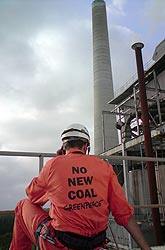 The results of the Australian federal election this weekend have stirred up waves of excitement not only in our antipodean offices but also around the world in anticipation that the country's government will finally, at long last, ratify the international Kyoto agreement on climate change.
According to Greenpeace Australia, it was an election in which climate change was one of the top issues (but don't just take their word for it, the BBC thought so too) and changes are already afoot. Out-going prime minister John Howard is replaced by Labor's Kevin Rudd who, as part of his manifesto, pledged to ratify Kyoto, an action that could have far-reaching consequences for global climate politics.
Along with the US, Australia is the only big polluting country involved in the Kyoto process not to have ratified. If Rudd honours his promise, it will leave George Bush without the support he received from Australia in his stick-in-the-mud attitude towards Kyoto, and make him even more isolated in the twilight months of his administration.
That will be the easy bit. Harder will be to move Australia away from its reliance on coal for its energy - the black stuff is responsible for 88 per cent of the country's electricity - and the income it brings as an export.
Our Australian colleagues have been hard at work shutting down coal-fired power stations (pictured above) and promoting renewable energy, but many new coal projects - including coal mines - are in the pipeline, and despite his commitment to Kyoto, the PM-elect also needs to deal with the coal industry's grip on domestic affairs.
As noted on the Greenpeace Australia blog:
While the climate change policies the [Australian Labor Party] took to the election were significantly better than those of the Coalition, they are still nowhere near good enough. Emissions will continue to skyrocket unless Prime Minister Rudd starts phasing out coal-fired power stations and replacing them with renewable energy.
Interestingly, the BBC has also done a round-up of media reaction to the change in government. Australia's national media is referring to the election results as "an earthquake", but the international media is more sanguine and reckons there will be few changes in direction. Similarities to our own Labour victory 10 years ago are purely coincidental.