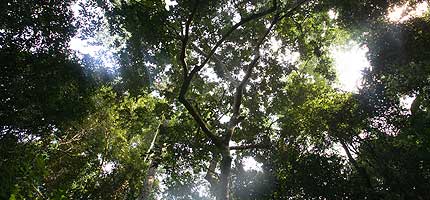 There have been some great developments around our Congo rainforest campaign, as the FT reported on its website this morning that one of the arms of the World Bank will offload the shares it owns in a company known to be destroying the forest of the Democratic Republic of Congo (DRC).
The International Finance Corporation (IFC) has announced that it will divest its holdings in Olam International, a Singapore-based company which has operations in the DRC. The Congo report we released earlier this year showed how Olam was holding forest land granted in breach of the current moratorium which the World Bank itself helped establish and that it was also trading in dodgy timber. As a result, Olam has since given back its forest holdings to the DRC government, but it still buys illegal timber cut by local companies.
The IFC's investment in Olam contravened its own code of practice which says that "the Bank does not fund logging anywhere in Africa and our main advice to the Government of DRC is not to expand industrial logging" so this development is excellent news. Better still, the IFC said it was divesting because of "policy considerations", not because of Olam's financial performance. There hasn't been much more in the way of clarification, but it's a pretty safe bet that it was a result of our exposes on Olam and this conflict of interests that forced the decision.
Of course, the IFC is just one of Olam's investors and supporters - familiar names such as HSBC, Barclays and Prudential either own shares or provide financial services. Hopefully this news will provide a wake-up call to both companies and investors that bank-rolling deforestation is not acceptable. We're going to keep working on this so fingers crossed there should be more to come.