If you were doing your weekly shop at Sainsbury's last Saturday, you may have noticed that John West tuna was no longer in stock. 'Hurray!' you may have thought, 'Sainsbury's has finally decided to drop this horrific brand.' If you looked a little closer, however, you would have noticed that Greenpeace was actually behind the lack of John West tuna in the tinned fish aisle. ;-)

Whereas Tesco and Waitrose have told John West they will stop selling their tuna if they don't improve, Sainsbury's is still dragging its feet. Even after over 72,000 people have emailed the CEO and nearly 600 people have called them, they still won't even talk with us. So we decided that if they're not going to clear the shelves of John West tuna, we'll do it for them!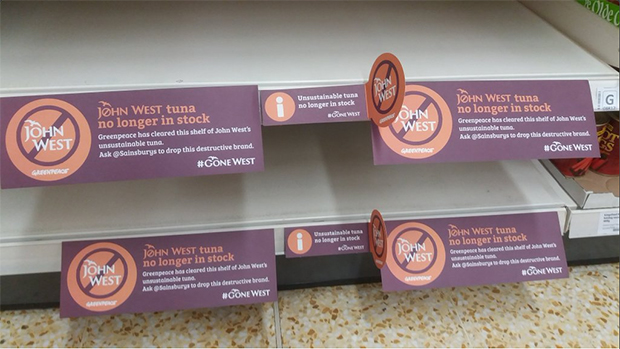 Last Saturday, 120 dedicated Greenpeace volunteers paid a visit to Sainsbury's stores all across the country. The teams cleared out the tuna shelves, rebranded them with Greenpeace art work and flooded Sainsbury's Twitter account with photos of exactly what we'd like to see – shelves empty of John West tuna. It was a cheeky activity, a bit of fun. But this cheeky activity was in aid of a very serious issue.
John West tuna is supplied by a company called Thai Union – the biggest tinned tuna company in the world. Thai Union fishes for tuna in one of the most environmentally destructive ways possible. It results in the death of countless numbers of endangered sharks, turtles and baby tuna. Thai Union has also been linked to numerous human rights abuses – with stories of fisherfolk not being paid for months on end, being kept at sea for years at a time and even being beaten.
Thai Union is everywhere. They supply to countries all over the world, hiding behind well-known brands. They are powerful. They are determined. They are ambitious. But so are we. We may not have anywhere near their amount of money, but we have millions of dedicated supporters. Supporters who are outraged by the things Thai Union is doing and who are willing to take action in many forms. Whether it's writing an email, making a phone call, clearing Sainsbury's shelves or blockading a Thai Union factory in France - which is what is happening right now, with 25 brave Greenpeace activists from across Europe stopping Thai Union tuna getting to markets across the continent.
Thai Union is everywhere. But so are we. We're in the Indian Ocean removing their destructive fishing gear, we're at their factories stopping tinned tuna making it to the shops, we're in the supermarkets clearing their products from the shelves. And we will not stop until Thai Union commits to sustainable fishing practises and a safe working environment for their fisherfolk.