Back in September, the government announced it was planning to launch a consultation on banning microbeads, those pesky toxic beads that companies have added to face washes, toothpastes, washing powders and other products. Once rinsed down the drain these tiny plastics end up in our oceans, where they play havoc with marine life and can even end up in the seafood that we eat.
Today the consultation has been launched, and we can see for the first time what the government is proposing. Is it the fully comprehensive ban that our oceans need? Well…. not quite.
The good
Firstly, let's start with the stuff we can cheer about.
The time frame the government have announced is pretty quick as far as these things go, with microbead-containing products due to be off our shelves by 30th June 2018. This would sneakily pip the USA to the post, as their final date for a ban on sales is 1st July of that year.
In proposing such an ambitious timeline, the government have shown that they are willing to act decisively to protect our seas. We'll be urging them to stick to this pledge.
The bad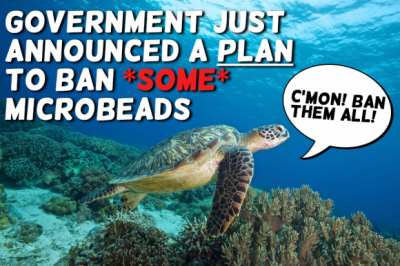 Unfortunately, as expected, the government's proposed ban is limited to just personal care and cosmetic products, despite the consultation document admitting that microbeads are found in "washing powders, household cleaners" and other items not included in their draft ban.
If the government accepts that microbeads pose a threat to the marine environment, then logically they should extend this ban to any products that could go down our drains and into the seas. Anything less means that ocean creatures are still at risk.
And, if Tesco can phase out microbeads from all of their cleaning products, then it's surely possible for the rest of the industry to follow suit.
So why haven't the government proposed a fully comprehensive ban? We'll be challenging them on this in our response to the consultation.
And the ???
There are a few unanswered questions in the consultation.
For example, the proposal is limited to "rinse-off personal care and cosmetic products", but there is no definition of what this means. Does it include make-up, heavy-duty hand cleaners, moisturisers...?
All of these things are arguably within the scope of the ban, but it's not made clear.
We'll be submitting our response to the government consultation in the new year, and will be pushing for the best possible ban to ensure that our oceans are protected from these polluting and unnecessary plastics. Add your name to stand with us and get rid of microbeads for good!