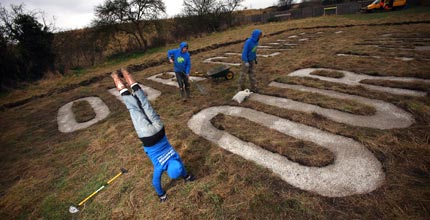 One day, all this will be yours... No wait, it already is!
© Rezac/Greenpeace
I meant to set up one of these yesterday but never quite got round to it, so I'm really pleased to see someone else (thanks, David Morgan!) has set up a Heathrow petition on the Number 10 website. If you're itching for another way to vent your anger at the government's appalling decision, sign it now.
Meanwhile, down on the land itself, the digging has finished and the words 'Our climate, our land' are now emblazoned across the plot in a handsome stone finish. There they'll stay until at least the next stage of the campaign which is being discussed now. We've already had loads of ideas from fellow Airplotters about what to do with the land - from turning it into a wildlife sanctuary to setting up a foreign embassy - and hopefully it won't be too long before we can let you know what you can do next.
And there are now over 22,500 of you who have joined the plot which is simply amazing. If you haven't joined yet, what are you waiting for?