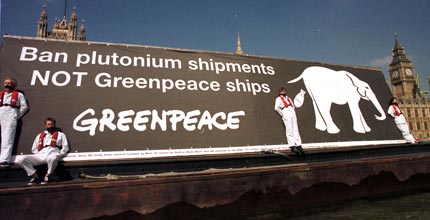 Back in 1999, Greenpeace was protesting about plutonium shipments destined for the Mox plant at Sellafield. Now the plant may have to close © Greenpeace/Sims
In the 'funny if it weren't so scary' category we have the advert which ran last week in the Whitehaven News, the local paper for west Cumbria where Sellafield is to be found. As reported in the Guardian at the weekend, LLW Repository Ltd - the company which has recently taken over managing the site - have found there are significant holes in records detailing what radioactive waste was dumped in the repository at nearby Drigg; so they're appealing for people who worked at Sellafield in the 60s, 70s and 80s to rack their brains and fill in the gaps.
Now I'm not good at filing, but when I can't put my hands on my TV licence or gas account number, the only person to suffer is me. When it's companies with the responsibility of managing some pretty nasty waste, however, that's something else entirely. The story on the website of Cumbrians Opposed to a Radioactive Environment draws the obvious conclusion that "given that the [waste] trenches have now been capped and sealed off for some years, those workers still alive will be hard pushed to recall exactly what they were chucking away up to fifty years ago, the inventory is unlikely ever to be completed."
Admittedly, it's not LLWR which is responsible for these administrative oversights (they haven't had much time to engineer their own cock-ups yet) but resorting to a public call for information is pure farce.
Greenpeace has been pointing out for years that waste management has been incompetent at best. Marge in our media team dug out a video from 1994 showing what happened when Greenpeace investigators snuck into the low level waste dump at Drigg, discovering improperly packaged junk and highly radioactive material which shouldn't have been there. The strong language of the investigator shows just how serious it was.
Government policy for dealing with nuclear waste is based on information provided by the companies managing (and hoping to manage) the nuclear facilities around the country. If that information is incomplete or just plain wrong, then the house of cards falls down. Again.
And then today we hear that the mixed oxide (Mox) production plant, also at Sellafield, is likely to be shut down after only 10 years of sporadic and inefficient operation. The Mox plant, you'll remember, was supposed to process new fuel from spent uranium and plutonium waste but since it began production, it has only managed to squeeze out less than 3 tonnes of fuel each year since 2002 - it was supposed to deliver 120 tonnes. It was also mixed up in a scandal over falsified plutonium safety records which led to the resignation of BNFL executive director John Taylor in 2000.
Now the Nuclear Decommissioning Authority has said in a new report that it "[does] not believe that [the Mox plant] provides either the capacity or longevity to be used for the UK civil stockpile".
Not that we're one's to say 'we told you so' (oh alright, yes we are), but in 2001 Greenpeace took the government to court over concerns that it would end up costing the tax payer hundreds of millions. Although these claims were dismissed, it looks like the point we were trying to make is finally sinking in.
So, another set of false and over-inflated promises from the nuclear industry has led to millions of pounds and valuable resources being wasted. And we're going to trust them to build a new fleet of power stations, and deal with all the waste they'll generate?