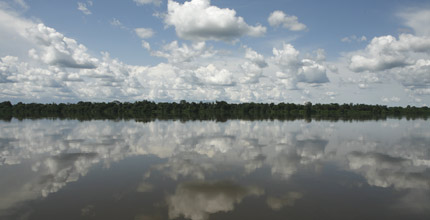 Prince Charles has a cunning plan to protect rainforests like this one along the banks of the Congo river © Stok/Greenpeace
The almost complete lack of green issues on the G20 agenda has had heads shaking both in our office and across the environmental movement, yet there was one result this week worth celebrating. It didn't come from the G20 directly, but the presence of so many world leaders was an excellent opportunity for Prince Charles to gather many of them together to talk about rainforests.
For some time now, the Prince has (like us) been promoting the idea that stopping deforestation in places like the Amazon and Indonesia is an excellent way to put the brakes on climate change. His recent trip to the Amazon (documented by the Sun's new environment editor) was just the latest demonstration of the Prince's passion for the issue.
On the political scene, the talks in Copenhagen at the end of this year should hopefully result in money flowing from rich countries to rainforest nations to protect their natural resources, but whatever long-term deal is struck it will take several years to take effect. That's simply not going to be fast enough, so the Prince's Rainforest Project (PRP) was set up and has been developing an emergency funding package to plug the gap.
On Wednesday, Charles (I'm sure he won't mind if I break from protocol; after all, greater people than me have) chaired a meeting of international leaders to discuss the proposals. David Miliband was there, along with Hillary Clinton, Kevin Rudd, Nicolas Sarkozy, Silvio Berlusconi and Ban Ki-moon amongst others.
The meeting seems to have been a success. They've agreed to set up an international working group to assess the various proposals developed by the PRP and expect to make speedy progress.
The PRP proposal - which involves bonds being offered to raise money and commitments from rainforest nations to reduce deforestation - could be in operation as early as next year. As the rates of deforestation in the Amazon increased last year, speed is of the essence. It could also provide an international solution to work alongside region-specific proposals like Brazil's Amazon Fund.
It's early days, but there are reasons to be hopeful.