Funding Partnerships with Greenpeace Environmental Trust
In both fundraising and grant making, we work closely with other Greenpeace organisations around the world to identify projects that will deliver research, investigations and education to promote sustainable development, and protect our planet.
We also make small grants to organisations that are tackling issues where we feel it would more effective to deliver through partner organisations. For example GeneWatch UK, Green Alliance, MADE and People & Planet.
Trust and foundation support
As a charity, we work with a number of trusts and foundations based in the UK to deliver transformational projects to help make the world a more green and peaceful place.
We do not accept any corporate or government donations making contributions from individuals and their charitable funds all the more important.
In 2013, in the Pulse Report, commissioned by members of the Environmental Funders Network (EFN), Greenpeace was declared the No. 1 most effective organisation relative to its resources. You can read the full report here: Passionate Collaboration – Effectiveness, Strengths and Opportunity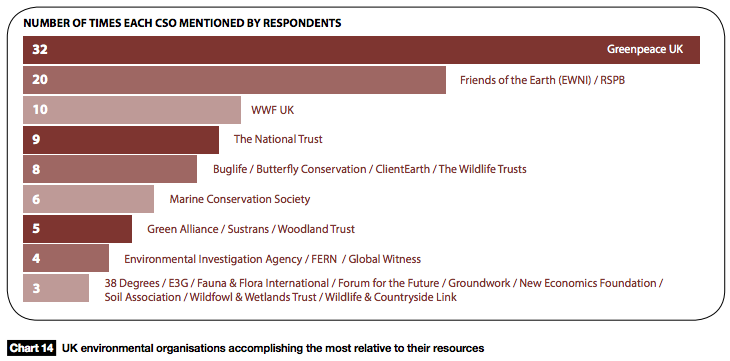 We hope that more people who work for, or with, trusts and foundations recognise our charitable work and join us in delivering effective projects to create a greener future for us all.
Past and present funders include – The Ashden Trust, Esmee Fairbairn Foundation, and The Waterloo Foundation.
Projects they have funded include:
Supporting small-scale fishermen (NUTFA) to have a stronger voice and secure better rights
Raising awareness of the causes of rainforest destruction in Indonesia and helping companies to put in place ground-breaking sustainability codes of practise
We are incredibly grateful for the support that these, and other funders, have given to our important work.