Yesterday, we took action. We closed 78 petrol Shell stations in London and Edinburgh to protest against Shells mission to drill for oil in the Arctic. We broadcast the action live from the ground, on the world's first live direct action TV channel (we think), which ran for 12 hours, watched by over 14,000 people around the world. This happened as part of Greenpeace UK's contribution to the Greenpeace global week of action happening all around the world to save the Arctic.
As the ice melts, Shell is moving in to exploit the Arctic for oil. But there is no known way of dealing with oil spills in the freezing water and inevitable mistakes would shatter the fragile Arctic environment. As well as being home to many species found nowhere else on Earth, the region plays a critical role in regulating the global climate. This would be not only devastating for the people and animals who live there, but for the rest of us too.The Arctic plays a crucial role in keeping our planet cool. Protecting the arctic means protecting us all.
We don't take direct action lightly. Only after Shell's ships left to drill for oil in the Arctic, refusing to change their dangerous plans, did we set out to communicate with Shell in a way they could not ignore. The result: they noticed. So did over 300 media articles linking Shell to Arctic destruction, plus coverage on ITN and BBC news. It was a big day in a big week for the global campaign to save the Arctic.
6:45am First Shell station shutdown reported
7:00am Our TV channel went live, reporting updates every hour
7:30am 24 Shell station shutdowns reported
8:30am 4 arrests reported
9:00am 42 Shell station shutdowns reported
9:10am 1 more arrest reported
12:30pm 57 Shell station shutdowns reported
1:47pm 1 arrest of a polar bear reported on twitter
3:00pm 66 Shell station shutdowns reported
4:30pm 71 Shell station shutdowns reported
7:00pm Our final TV broadcast on the day, 77 Shell station shutdowns reported
Note: We didn't learn about the 78th shutdown until the next day, because that team was arrested before they could report it.
None of this could have happened without the bravery of those activists who risked their freedom to tell shell not to drill in the Arctic. The activity required 14 roaming teams plus two day-long occupation teams, one in London and one in Edinburgh. 5 teams were arrested (including 1 polar bear) - 24 arrests in total in an effort to help protect the invaluable Arctic. Activists arrested in Scotland will appear in court this afternoon charged with "malicious mischief".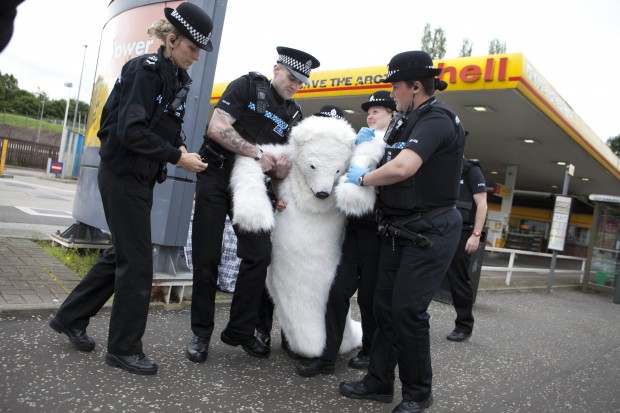 All activists were released either late last night or early this morning except for the most active team in London, who were caught 3 times:
Once when served a warning by Hertfordshire police,
Again when arrested by Hertfordshire police and taken to Watford station
And again when they were released from Watford station and immediately re-arrested by metropolitan police and taken to Uxbridge station.
One of those activists celebrated their birthday from Uxbridge police station today.
Support came in on every channel. The public were overwhelming supportive, some of whom provided tea and sweets to the activists, which involved throwing supplies up to the roof. We had hundreds of donations and positive statements were made across the world online.
Most importantly, Shell noticed. Their staff recorded all of our videos, captured all of our pictures and transcribed the entire 12-hour live TV-broadcast – which is very impressive. At 10am this morning, they compiled this information as part of a submission for an injunction, and at 12pm, Shell informed Greenpeace of their successful application for an injunction from the English High Court.
The injunction stipulates that we are not allowed to interfere with the electrics, lock the bowsers or block the entrance to any of Shell's petrol stations. But we already weren't allowed to do that – so we were a little surprised that they went to all that effort to tell us what we already knew.
Robert Blaauw, Senior Adviser for the Global Arctic Theme at Shell International today responded to a question from a Greenpeace campaigner by saying "You guys are good at using airtime."
An extra requirement placed on those who were arrested means that some of our activists are not allowed onto property belonging to either Shell, or Waitrose. We didn't target Waitrose, but we realise that Waitrose shops have started to appear in the forecourts of Shell petrol stations in the UK. We hope that Waitrose will reconsider their affiliation with a company willing to compromise the Arctic for a short supply of oil.
Some of us like the other things that Waitrose do. So we asked if our activists can still legally use Ocado, a home delivery service that works with Waitrose, and yes, it turns out that is still allowed.
The action continues. Please join us to tell shell to get out of the Arctic. We'll be taking to the streets around the world this Saturday the 21st of July, where hundreds of people have signed up to get involved. Find out what's happening in your area here.
Together we can save the Arctic. Shell: are you listening?