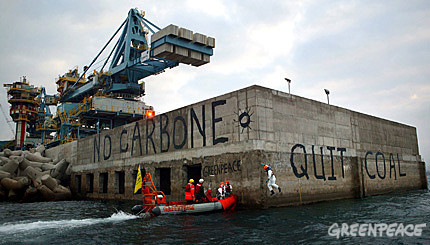 As the Rainbow Warrior arrives here to embark on the UK leg of of her worldwide "Quit Coal" tour, activists from another of our ships, Arctic Sunrise, have been busy putting coal in the hot seat in Italy.
"Small variations in global temperatures have vast consequences. The last Ice Age was only six degrees colder than today. A global rise of just 0.8 degrees has melted the Arctic."
Johann Hari: Don't kill the planet in the name of saving the economy »
Five of them scaled a 150 metre crane at a new coal-fired power plant in Civitavecchia, near Rome, to drop a banner highlighting the fact that Italian government policy effectively opposes the Kyoto Protocol. Meanwhile another five activists painted "No Carbon" and "Quit Coal" in giant letters on the power plant's dock from an inflatable boat.
The actions were timed to highlight the Italian government's attempts to expand the use of polluting coal-fired power, at a time when we should be looking towards a renewable energy future to save us from the most damaging effects of global climate change. Italy had been trying to block important climate change agreements being discussed by the EU, designed to finalise Europe's position on climate and energy ahead of international climate negotiations coming up in December. But the good news just in is that agreement has now been reached,with Italian opposition being overruled.
More from our international site »