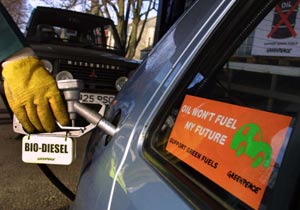 Bio-diesel: green fuel we can use today
Take some rapeseed, sunflower or soya oil, or recycle some used cooking oil, refine, mix with a diesel engine and voila! A non-toxic, biodegradable green fuel that can be used in any diesel engine.

Although the plant-based fuel is not pollution-free, it is significantly cleaner than its petro equivalent and causes just half the damage to the climate. Its widely used in the US, Germany and France, so why isn't the UK enjoying the environmental, economic and health benefits too?

In most European countries bio-diesel is tax-free. In Germany and France it costs 40-45p a litre and is found in thousands of filling stations. In the UK bio-diesel is taxed at the same rate as petro-diesel, and is not available at any petrol stations. And unlike Americans, British farmers get no assistance if they want to produce the fuel. The US has allocated $150 million a year for grants to farmers producing bio-diesel.

Download our fact sheet 'Bio-diesel - green fuel we can use today' for more information.