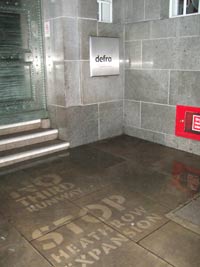 Anti-Heathrow expansion activists were out and about at the weekend keeping up the pressure on the government to think again about plans for a third runway at Heathrow Airport. This time they took to the streets - literally - to get the message across, using a new method called 'clean grafitti'.
Taking a cue from the "wash me" messages scrawled on the back of delivery trucks, clean (or reverse) graffiti uses high-pressure steam to imprint images on dirty walls and pavements. And as you can see from these pictures, the process worked a treat not only on the doorstep of Defra (Department for Environment and Rural Affairs), but also in more exposed locations such as Parliament Square, Victoria station, and a flight centre in Chiswick.
What impresses me about this technique is that, apart from looking great, it allows them to get the message across without doing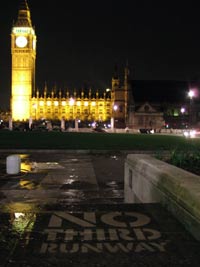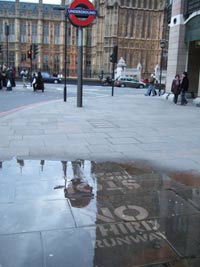 anything illegal - since all it essentially involves is cleaning the pavement.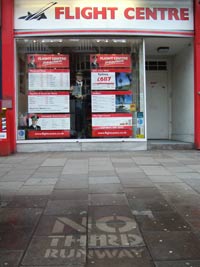 It's great news that these grafitti artists are adding their support to the campaign as it builds to a climax with the the consultation period ending in late February. Let's hope they continue to leave more clean grafitti about the place to remind Londoners that if they don't want their lives to be blighted by unfettered airport exansion and all that goes with it, they need to make their voices heard in the next month.
And just wanted to add a big thank you to our clean grafitti artists Moose and George at Symbollix for this amazing work.
Take Action
Join the roar of opposition to Heathrow expansion
If you live in London, come to the Heathrow Mass Rally at Central Hall, Westminster on Monday 25th February at 7pm - two days before the end of the consultation. This is one not to miss! More details soon.