Years from now, today may be remembered as the day that the UK stood up and declared, "We are not for shale!"
I've spent a lot of time in and around actions here at Greenpeace and elsewhere, but rarely have I felt as excited as I do right now about the potential for a major victory, with the launch of wrongmove.org and the Not For Shale legal block.
Let me take it back a step.
This year, the government declared that almost two-thirds of England was fair game for fracking exploration. Many of us got angry, protest camps sprung up, and direct actions kicked-off from Balcombe to London, Manchester to Preston.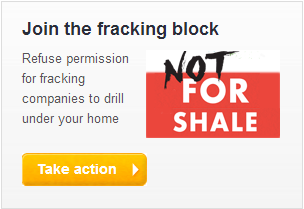 But the answer to stopping fracking could actually be incredibly simple: if we tell the frackers that horizontal drilling and injections of chemical cocktails are not wanted under our homes, fracking becomes trespass and fracking companies are breaking the law.
So it is with this simple legal feather in our collective cap that I am proud to announce the launch of a daring challenge to the fracking industry today.
You can punch in your postcode and find out in seconds if your home is at risk of being fracked. If it is, you are cordially invited to join the Not For Shale legal block, declaring that the land under your home is not to be fracked.
Without your permission, or a statutory provision, then fracking companies would be acting unlawfully if they were to drill under your home. That's because in common law if you own your home, then your rights extend to all the ground beneath it. And if you rent your home, these rights usually apply to you as a tenant too, unless your lease explicitly leaves the underground rights with the landlord.
There are no specific laws that relate to fracking under people's homes, though we've heard reports that the fracking industry is lobbying government to bring one in (£). Essentially, the fracking industry wants the government to override all of our rights so they no longer have to seek permission to drill under your home.
The government may well try to change the law on us, so it's critical that we act now.
The more people who join the legal block and explicitly say that they do not permit drilling to take place under their house or land, the harder it will be for companies to ignore the law – and the clearer it will be to government that we do not want the country to be put 'up for shale.'
Go to wrongmove.org to find out now if your home is at risk of being fracked, and encourage your friends and family to do the same.
This is our chance to stop the dash for gas in its tracks.