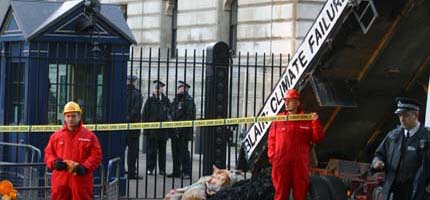 This morning we sent a reminder to Tony Blair of his commitment to tackle climate change - several tonnes of coal.
Greenpeace volunteers blockaded three entrances to Downing Street as Tony Blair rows back on his commitment to the Kyoto Protocol. In a series of statements in recent weeks the Prime Minister has cast doubt on his long-term support for the global agreement, while British emissions of carbon-dioxide have risen since he came to power.
At 7.30am a truck emblazoned with the slogan 'Blair - Climate Failure' arrived at the Horse Guard's Road entrance to Mr Blair's residence. Greenpeace representatives informed police officers what they were about to do before the vehicle tipped several tonnes of coal in front of the gates. Simultaneously 50 Greenpeace volunteers emptied sacks of the polluting fuel across the King Charles Street entrance and the access point on Horse Guards parade. A tipper truck with 14 tonnes of coal, emblazoned with the slogan 'Things Can Only Get Wetter' which was destined for the Whitehall entrance was stopped by police.
One of the volunteers, Stephen Tindale, a former environment advisor to New Labour and now the executive director of Greenpeace, said:
"We've blockaded Downing Street with coal because Tony Blair has failed on climate change. We hope he clears his diary and spends the day in his office working to strengthen Kyoto and cut British emissions, because so far all he's done is make speeches. They told us things can only get better, but Blair's burning more coal than ever, our CO2 emissions have gone up, he's set to miss his own global warming targets and now it seems he's trying to kill off the Kyoto Protocol."
Tony Blair's climate crimes include:
Failed to reduce CO2 emissions - carbon-dioxide emissions have gone up since Blair became PM in 1997

Sacrificed the climate in the face of industry lobbying - Blair is taking the EU to court after it prevented him from increasing the amount of CO2 British industry is allowed to emit

Subsidised and supported coal, the most polluting of all fuels - Britain burns 7.5% more coal now than it did in 1997, simply because it is cheaper than (less polluting) gas

Failed to stem the flow of wasted energy haemorrhaging from UK buildings

Failed to end the scandalous waste of energy from the UK electricity generation and distribution system

Instructed airports to expand despite the facts that aviation is a major contributor to climate change

Failed to halt the growth in greenhouse gas emissions from traffic and embarked on a new road building program - while Ken Livingstone tackles emissions from transport the PM encourages car use

Weakened international policies to tackle climate change - opponents of tough global emissions targets have welcomed Blair's recent statements
Negotiations for the second phase of Kyoto are set to begin in Montreal this month, but the Prime Minister has indicated he doesn't support the tough new climate change targets the agreement is designed to eventually deliver. In a speech this month Blair said: "The blunt truth about the politics of climate change is that no country will want to sacrifice its economy in order to meet this challenge." Lord May, President of the Royal Society, responded last week by saying: "The blunt truth about the politics of climate change is that countries are not doing enough to adapt their economies so that they reduce their greenhouse gas emissions."
The United Kingdom is one of those countries. Greenpeace's Stephen Tindale said:
"Climate change is already killing 150,000 people a year, hundreds of species are threatened with extinction and entire island states could disappear under water. We're facing a climate catastrophe, but Blair's back-tracking. He needs to act, and soon. He could cut emissions by burning less coal, getting right behind renewable energy schemes, dropping airport expansion plans, making cars use less fuel and making Britain's buildings more energy efficient."
For more information
Download the dossier detailing Blair's failures as a pdf.