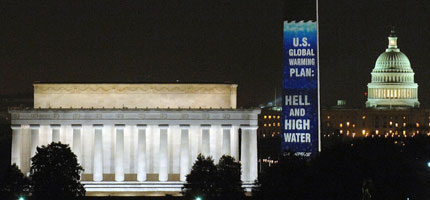 US climate change policy will deliver hell and high water
© Greenpeace/Bill Auth
Last night, a day after George Bush's final State of the Union speech, Greenpeace volunteers in the US used one of their nation's most iconic monuments to paint a clear picture of what his climate change policies will mean for the planet.
The Washington Monument, just down the road from the White House, was used as a giant billboard to project the message, "US global warming policy: hell and high water", as rising sea levels are just one of the treats we have to look forward to if global emissions aren't slashed soon. It's also no coincidence that Bush is now hosting the second round of his Major Economies Meeting in Hawaii, which he claims will provide "a post-Kyoto framework on energy security and climate change by the end of 2008".
Despite the fact that US representatives were booed at the UN climate change meeting in Bali, some are relieved that the US government is finally talking about climate change, but there are huge holes in the aims of Bush's initiative. One such gaping pit is that it seeks to only set voluntary reduction targets, whereas by comparison the Kyoto Protocol revolves around mandatory, binding targets.
There are also accusations that, by appearing to doing something, Bush is trying to defuse climate change as an election issue, but one thing is pretty much certain: we won't be seeing any sizeable shifts in US climate change policy coming out of Honolulu.